Watch Trailer For Animated Film Animal Crackers, On Netflix In July
Netflix will debut an animated film titled Animal Crackers on July 24th. The film has been completed for years now, but due to distribution when Relativity Media went belly up, it missed its release date in 2017. After many years of sitting on the shelf, Netflix will release the film starring John Krasinski, Emily Blunt, Danny DeVito, Raven-Symone, Patrick Warburton, Harvey Fierstein, Sylvester Stallone, Wallace Shawn, Gilbert Gottfried, Tara Strong, Kevin Grevioux, James Arnold Taylor, Lydia Rose Taylor, and Ian McKellen. You can watch the trailer for Animal Crackers down below.
Animal Crackers Looks Cute
"In the film, a family must use a magical box of animal crackers to save a run-down circus from being taken over by their evil uncle, while deciding what future they want for themselves." What a cool concept for a film. Apparently, this was first imagined as a graphic novel but quickly snowballed into a feature film. It has had to fight and claw its way to Netflix, as it has been set up at no less than four distributors that could not get a deal in place to put the film out. When Animal Crackers debuted at Annecy back in 2017, the response was enthusiastic and looked like it was going to become a hit. Then Relativity went under, and chaos followed.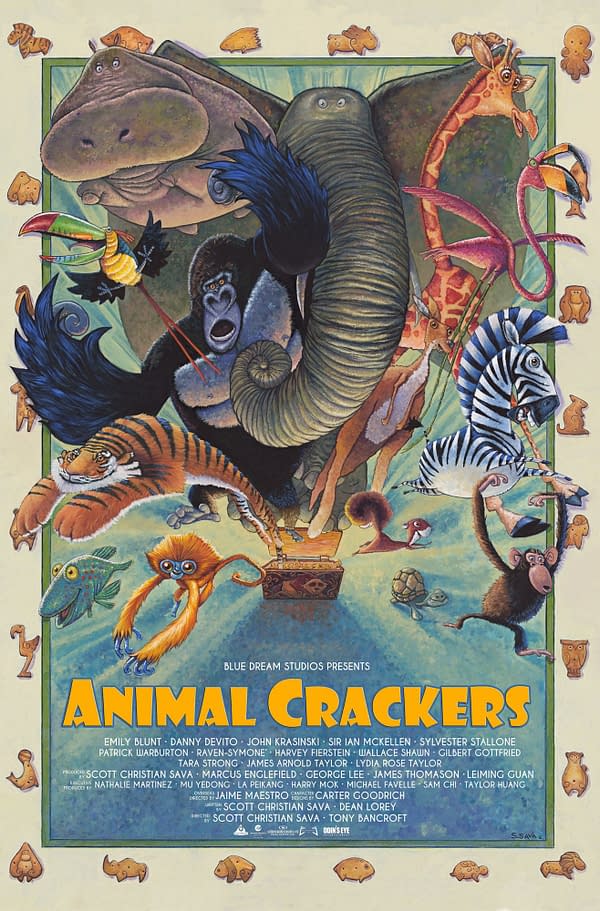 It is crazy to me that a completed film with a cast of this pedigree can sit on the shelf for that long. Animal Crackers might not be the best-animated film we have ever seen or anything, but it looks solid, and with that talented of a voice cast Netflix surely should boost its profile. I am glad this film is getting a happy ending.