Netflix Readies Japanese Animated Series Aggrestuko, B: The Beginning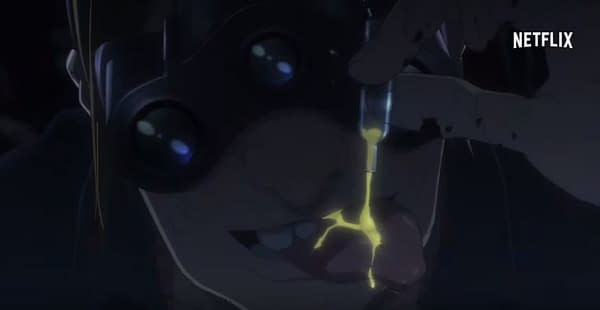 A new year brings a new lineup of international original animation from Netflix, with the streaming giant looking to build upon the success of last summer's slate of original series: Devilman Crybaby, Saint Seiya and Baki. Working with some of Japan's top animation production, Netflix is readying a series based on popular Sanrio character Retsuko; and futuristic crime action drama from Ghost in the Shell producer Production I.G.
Here's a look at both upcoming Netflix series:
Aggrestuko (Spring 2018): Based on Sanrio's Japanese popular character Retsuko, the 10 15-minute episodes center on the young female red panda's experiences working for a major corporation. The high-tension comedy/drama highlights Retsuko's struggles in adjusting to an office milieu.
B: The Beginning (March 2nd, 2018; with main theme song The Perfect World, written by Marty Friedman, featuring Jean-Ken Johnny and Ken Ken): A 12-episode crime action series produced by Production I.G. (Ghost in the Shell, Psycho-pass) and Kill Bill animation director Kazuto Nakazawa, B: The Beginning shows what happens when the dream of universal peace (through newly-created "new humans") turns into a nightmare unimaginable consequences when these "new humans" are kidnapped by an evil group with very different plans.
And here's a look at what Netflix has already added to its service:
With demons reawakened and humanity in turmoil, a sensitive demon-boy is led into a brutal, degenerate war against evil by his mysterious friend, Ryo.
https://www.youtube.com/watch?v=qZ_lAeCwM1A
The protagonist, Baki Hanma, trains with an intense focus to become strong enough to surpass his father, Yujiro Hanma, the strongest fighter in the world. Five of the world's most violent and brutal death row inmates are gathering to face Baki. Their objective is to taste defeat — their unmatched strength and skill have led them to grow bored of life itself, and they now seek out Baki in the hopes that he can overwhelm and utterly crush them. In this crisis, other underground martial art warriors gather to fight by Baki's side: Kaoru Hanayama, Gouki Shibukawa, Retsu Kaioh, and Doppo Orochi. An epic showdown between violent death row inmates and Baki and his friends begins! More than 63 million copies of the original manga series have been printed and the series will be comprised of 26 episodes for Netflix, produced by TMS Entertainment.
In ancient times, a group of young men devoted their lives to protecting Athena, the Goddess of Wisdom and War. These men were capable of fighting without weapons—a swing of their fist alone was powerful enough to rip the very sky apart and shatter the earth beneath them. These brave heroes became known as Saints, as they could summon up the power of the Cosmos from within themselves.

Now, in present day, a new generation of Saints is about to come forth. The young and spirited Seiya is fighting a tough battle for the Sacred Armor of Pegasus, and he isn't about to let anyone get in the way of him and his prize. Six years of hard work and training pay off with his victory and new title as one of Athena's Saints.

But Seiya's endeavor doesn't end there. In fact, plenty of perils and dangerous enemies face him and the rest of the Saints throughout the series. What new quests await the heroes of the epic Saint Seiya saga?