Aquaman might be heading to the big screen this year with his first solo outing but he's jumping to the novel first.
According to Heroic Hollywood and later confirmed via the Harper Collins website that Aquaman is going to get a picture book guide for kids and a prequel novel aimed for young adults.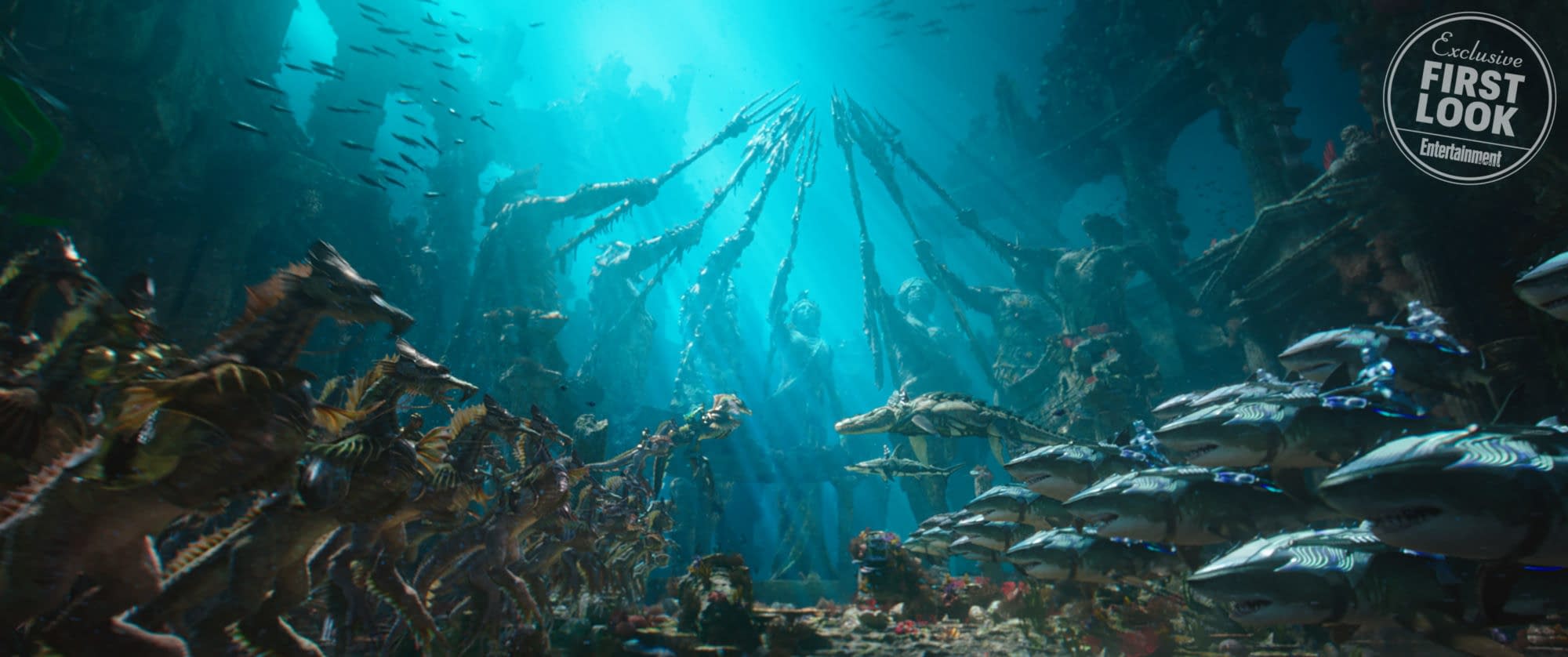 The picture book, "Aquaman: Arthur's Guide to Atlantis" by Alexandra West, is set to be released on November 6th. It's looking like one of those books that we see for the younger audience for movies like this but also looks to have a lot of hidden goodies about Atlantis. We don't know that much about the movie version of Atlantis.
A jam-packed guide featuring everything you need to know about the "mythical" city of Atlantis. With entries from thirteen-year-old Aquaman, aka Arthur Curry, the guide provides you with everything you need to know about the hidden kingdom. From the city's amphibious population to a look into the weapons and armor vault, this imaginative guide is sure to be a hit with fans of the highly anticipated film.

This full-color book features 144 pages of entertaining notes, journal entries, and exclusive never-before-seen photos!
Next we have the young adult novel which is called "Aquaman: Undertow" written by Steve Behling. It's also due out November 6th, according to the Harper Collins website, which is about five weeks before the movie is due. We've seen some shots of young Arthur in the trailers but this book is promising something a little different.
Aquaman: Undertow is the never-before-seen prequel story of a young Arthur Curry, set in the cinematic world of Aquaman and the DC Universe—perfect for fans of the highly anticipated movie moment!

Before he was King of Atlantis . . .

Thirteen-year-old Arthur Curry has enough troubles to sink a ship. His mom left him and his dad when Arthur was only three years old. He doesn't fit in with the other students at school. To them, he's just "fish boy," a weird, freaky kid. But Arthur has a secret. Something so secret, even he doesn't know what it is.

Yet . . .

With the help of his only friend, Claudia, Arthur will begin to learn the truth about his mother, himself, and a legendary world that may actually exist.

Oh, and he learns about octopuses. Octopi. It's probably octopi, right?
We're glad that they got a fish joke into the summary.
Summary: Arthur Curry learns that he is the heir to the underwater kingdom of Atlantis, and must step forward to lead his people and to be a hero to the world.
Aquaman is directed by James Wan, stars Jason Momoa, Amber Heard, Nicole Kidman, Patrick Wilson, Willem Dafoe, and will hit theaters on December 21st 2018.
Enjoyed this article? Share it!