Aquaman Producer Thinks The Trench Could Be Released Before Aquaman 2
When Warner Bros. announced their intentions to make a spin-off movie based on the Trench characters from Aquaman, fan reaction was a strange combination of surprised and not surprised. At this point, the movie was a certified smash hit with a worldwide box office of over a billion dollars. We knew a sequel was on the way but a spin-off was an interesting choice. However, considering director James Wan cut his teeth in the horror genre, it isn't that shocking that they would develop a spin-off based on the terrifying creatures from Aquaman. Producer Peter Safran spoke to The Hollywood Reporter and he believes that there is a good chance we'll see The Trench before we see Aquaman 2.
"We always, even from the early concept art days, loved the idea of a Trench movie," Safran said. "Then, when audiences embraced it in the movie itself the way they did, particularly that ant farm shot where the camera follows the Trench [creatures] following Arthur and Mera down into the deep, we just knew that we had something very special there and we knew what that movie should be. And consequently, I suspect that that's one that will come out significantly before Aquaman 2."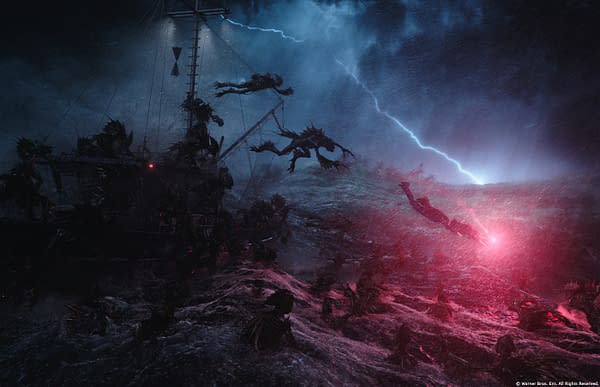 While Safran didn't offer much in the way of story details he did confirm that Arthur and Mera will not appear in the movie and that it will take place after Aquaman. As far as beating Aquaman 2 to theaters? That's not the fastest turn around in the world, Aquaman 2 currently as a December 16, 2022 release date, it isn't taking your time either. However, this is the kind of spin-off that Wan and Safran know all too well. This is basically the same way they started The Conjuring universe.
"We've definitely taken a page from our Conjuring playbook, which is: You've got the mothership, which is Aquaman, but there are so many great stories to tell within that universe of itself, that Atlantean universe," Safran explained.
To be honest there is a decent chance that Wan and Safran could walk into Warner Bros. and ask for whatever they want in the same way Patty Jenkins likely could. The fact that a person of color and a woman are the two directors that got the DC universe back on track is awesome. We'll have to see some sort of interesting passion projects they leverage out of Warner Bros.
Summary: Arthur Curry learns that he is the heir to the underwater kingdom of Atlantis, and must step forward to lead his people and to be a hero to the world.
Aquaman is directed by James Wan, stars Jason Momoa, Amber Heard, Nicole Kidman, Patrick Wilson, Willem Dafoe. It is available for digital download now and will be released for Blu-ray, 4K Blu-ray Ultra HD, and DVD on March 26th.