Batman Forever Designer Explains Choice to Free the Nipple
When the Joel Schumacher-led Batman Forever film was released back in 1995, it was initially designed to be a somewhat lighter depiction of both Batman and Gotham. Despite mixed reviews, the film was a box office success given its budget but offered one pop culture moment that still finds its way into a conversation from time to time – Batman's choice of a suit in Batman Forever and the introduction of the dark knight's choice to #FreeTheNipple.
More recently, the designer behind the official batsuit in Batman Forever had a chance to explain the choice and the inspiration behind it, which obviously had an actual intention that wasn't just for internet jokes.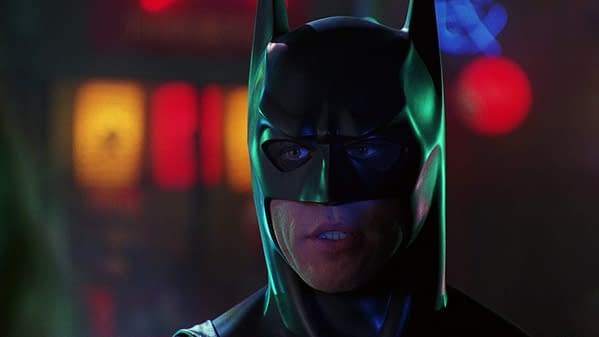 In a conversation with Mel Magazine, costume designer Jose Fernandez opened up about the suit, explaining, "With Val Kilmer's suit in Batman Forever, the nipples were one of those things that I added. It wasn't fetish to me; it was more informed by Roman armor — like Centurions. And, in the comic books, the characters always looked like they were naked with spray paint on them — it was all about anatomy, and I like to push anatomy. I don't know exactly where my head was at back in the day, but that's what I remember. And so, I added the nipples. I had no idea there was going to end up being all this buzz about it."
The suit would eventually return with some changes in Batman & Robin, showing that Batman has always been ahead of his time. When then asked about the evolution between films, Fernandez shared, "Well, in the first one, they were just a little blob of clay. It was subtle — it was a blip. But for Batman & Robin, Joel Schumacher loved the nipples, so he said, 'Let's showcase them.' Schumacher wanted them sharpened, like, with points. They were also circled, both outer and inner — it was all made into a feature of the batsuit. I didn't want to do it, but he's the boss, so we sharpened them, circled them and it all became kind of ridiculous."
And the rest was superhero history!