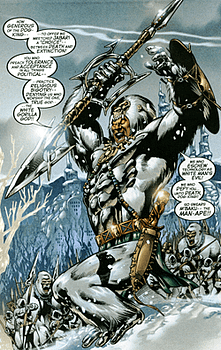 The cast of Avengers: Infinity War continues to grow. There was a running joke leading up to Captain America: Civil War that everyone and their grandma was going to be in that movie. The joke for Infinity War seems to be that it'll be everyone, your grandma, and someone you haven't spoke to in half a decade.
One of the villains from the upcoming Black Panther, aside from Michael B. Jordan's Erik Killmonge, Winston Duke's M'Baku aka Man-Ape. Does this mean that the villain is going to survive Black Panther and that's why he's able to return? There are a bunch of explanations but it could be a spoiler via casting anyway. One of the downsides to every aspect of movies being reported on and studied is that we don't get to be surprised anymore.
Black Panther will be directed by Ryan Coogler and stars Chadwick Boseman, Michael B. Jordan, Lupita Nyong'o, Danai Gurira, and Martin Freeman. It will be released on February 16, 2018.
Avengers: Infinity War will be directed by Anthony and Joe Russo and stars Robert Downey Jr., Josh Brolin, Mark Ruffalo, Tom Hiddleston, Chris Evans, Chris Hemsworth, Jeremy Renner, Chris Pratt, Elizabeth Olsen, Sebastian Stan, Benedict Cumberbatch, Paul Bettany, Samuel L. Jackson, Cobie Smulders, Benedict Wong, Zoe Saldana, Karen Gillan, Vin Diesel, Dave Bautista, Pom Klementieff, Scarlett Johansson, Tom Holland, ,b>and Anthony Mackie. It will be released on May 4, 2018.
#WinstonDuke has joined the cast of #AvengersInfinityWar as M'Baku/Man-Ape, the same role he will portray in #BlackPanther! pic.twitter.com/NHtc51PP93

— IMDb (@IMDb) June 2, 2017
Enjoyed this article? Share it!