It's safe to say the majority of us on this site love Porgs. We have Porg plushies, clothing, jewelry, and more. And now, we (and you!) can make Porg cupcakes!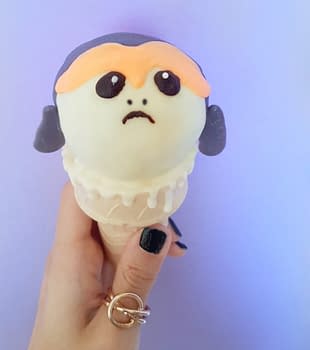 Thanks to Disney Family, anyone can enjoy these adorable and easy-to-make snacks.
Ingredients
4 Cups cake
6-8 Tbsps vanilla frosting
10 Oz. white chocolate candy melts
Piping bag
Black and orange food coloring
6 waffle cones
Directions
Break the cake into chunks and blitz in a food processor until finely crumbed.

Mix in frosting until a light dough-like texture is formed. Then form into balls, making sure the balls are able to fit over the top of the waffle cones. Refrigerate the cake truffle balls until firm (about 1-2 hours).

Melt white chocolate candy melts in a microwave. Using a piping bag, drizzle the chocolate over the edges of the cones to create the effect of melting ice cream. Set aside for the chocolate to harden.

Dip the cake truffle balls into the melted white chocolate, until they are fully covered. Let the chocolate set at room temperature (about 10 minutes).

Tint the white candy melts using black food coloring to create the grey color. Using a small teaspoon, drizzle the grey chocolate over half the cake ball. Let the chocolate set at room temperature (about 10 minutes).

Pipe the porgs' wings using grey chocolate onto parchment paper and allow to set (about 10 minutes at room temperature).

Tint some chocolate orange and pipe the eye circles for the porgs directly onto the cake balls using a piping bag.

Using black tinted chocolate, pipe the porgs' eyes and facial details, also directly onto the cake balls.

Place the cake balls on top of the cones and seal the edges with melted white chocolate. Adhere the wings using melted grey chocolate and hold in place for a minute or so, until the chocolate is set.
Enjoyed this article? Share it!