There is something very special about the upcoming film Rocketman, something that the audience at Cannes Film Festival had to applaud with a standing ovation.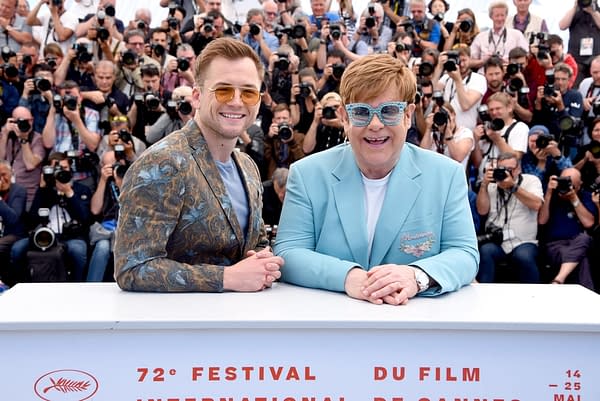 The film's star, Taron Egerton, tearfully reacted to this outpouring of love for his role as the legendary Sir Elton John in the biopic from director Dexter Fletcher.
Taron Egerton is crying at the end of #Rocketman. #Cannes2019 pic.twitter.com/JdMeuFlZWB

— Ramin Setoodeh (@RaminSetoodeh) May 16, 2019
If that name sounds familiar, it's because Fletcher was brought on board to finish 2oth Century Fox's Queen and Freddie Mercury biopic Bohemian Rhapsody following the firing of troubled director Bryan Singer. Rocketman had actually been in production prior to cameras rolling on Bohemian Rhapsody, and thusfar the early audiences have all been celebrating Fletcher's work.
You can see in this video, Sir Elton embracing Fletcher:
Elton John embracing ROCKETMAN director Dexter Fletcher (then actor Richard Madden) during the film's Cannes standing ovation pic.twitter.com/xzGeCT1Dyz

— Kyle Buchanan (@kylebuchanan) May 16, 2019
Reports had come and gone just as quickly that a possible nude / love scene between Egerton and Richard Madden had been reshot do to the nature of the content, but Fletcher adamantly said this wasn't the case.
We cannot WAIT to see Rocketman, which opens in theaters on May 31st 2019.
Enjoyed this article? Share it!