I don't think I'd consider Charles Dickens as The Man Who Invented Christmas, but I do often think of him as an author who would be very much at home writing in the modern-day comic book industry. He was mobbed, overwhelmed, and often perplexed by American fans on his first trip here in 1842. He often spoke out about the important industry issues of his day (in his era, international copyright), and he sometimes found the press fickle, contentious, and quick to turn on him.
"If I turn into the street, I am followed by a multitude. If I stay at home, the house becomes, with callers, like a fair. If I visit a public institution with only one friend, the directors come down incontinently, waylay me in the yard, and address me in a long speech. I go to a party in the evening, and am so inclosed and hemmed about with people, stand where I will, that I am exhausted from want of air. I dine out, and have to talk about everything, to everybody. I go to church for quiet, and there is a violent rush to the neighborhood of the pew I sit in, and the clergyman preaches at me. I take my seat in a railroad car, and the very conductor won't leave me alone. I get out at a station, and can't drink a glass of water without having a hundred people looking down my throat when I open my mouth to swallow." [letter to John Forster, 1842]
And as it sometimes goes with modern comic book creators working on important titles, when it comes to Dickens and A Christmas Carol, I'd consider that more of a reboot.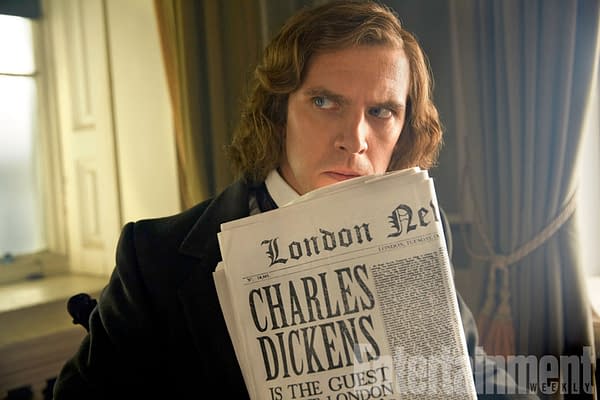 Keeping in mind we're talking largely about the secular aspects of the holiday (and I'll confine myself to American history here), the fundamental elements were largely in the air in America before A Christmas Carol was published here in 1844. Most notably, Washington Irving's The Sketch Book of Geoffrey Crayon, Gent, a collection of short stories and essays serialized in 1819 and 1820 which includes Rip Van Winkle and The Legend of Sleepy Hollow, also contains five short stories about Christmas. One of the most widely read works of fiction of that era, one can also argue that The Sketch Book of Geoffrey Crayon, Gent, also prefigures A Christmas Carol in some important ways.
Irving in turn inspired Clement Clarke Moore, whose 1822 poem An Account of a Visit from St Nicholas defines much of our modern notion of Santa — "a right jolly old elf" — and his surrounding mythology of a sleigh, eight reindeer, and the idea of heading down the chimney with toys for children, with "Merry Christmas to all and to all a good night."
All of which is not to diminish A Christmas Carol, which is of course a key part of Dickens's toweringly important body of work. Thanks in part to Dickens's stature as one of the few literary rock stars of his era, A Christmas Carol road the rising waves of American popular culture in the decade that followed the Civil War, and did indeed help redefine the holiday tradition for generations to come.
Dickens is an interesting and complicated figure in the history of literature, and important as it is, it's interesting to consider him through the somewhat narrow lens of A Christmas Carol. The film stars Dan Stevens as Dickens, and hits theaters on November 22nd.
Editor's Note: Anyone else find it eerie that the newspaper Dickens is holding in the image above says "CHARLES DICKENS IS THE GUEST"? Like the guest Dan Stevens plays in, uh, The Guest? Whew. Well, 'tis the season, folks.
Enjoyed this article? Share it!