Wrestling superstar "The American Nightmare" Cody Rhodes was the victim of a brutal bear attack at Friday's Ring of Honor 16th Anniversary PPV. The attack occurred following Rhodes' match with Matt Taven, in which Rhodes emerged victorious and back in possession of his stolen Ring of Honor (the jewelry kind, not the wrestling promotion). Just before the fight, after the Bullet Club lost a 6-Man Tag Championship match to SoCal Uncensored, Taven's Kingdom cohorts attacked the Young Bucks, leaving them unable to come to Rhodes' aid after his match when Bury the Drug Free Bear, who along with Brandi Rhodes had accompanied Cody to the ring, suddenly turned on Rhodes, shoving him to the ground in a shocking and brutal assault.
It's worth taking a moment at this point to remind our fans that safety is the most important thing when dealing with dangerous animals like bears. In an article titled "Staying Safe Around Bears," the U.S. National Park Service describes the behavior of the animals as "unpredictable" and notes that bear attacks have resulted in "serious injuries and death," so Rhodes was taking a risk in bringing a bear to the ring at a crowded wrestling event in the first place. The Park Service recommends keeping your distance from bears if encountered in the wild and trying not to surprise them. However, the 16th Anniversary PPV was an exciting atmosphere that almost certainly kept the bear on edge.
While bear safety is an important subject and worth talking about at any opportunity, it turns out to be a moot point when the bear removed its head to reveal that it was actually Rhodes' rival, international wrestling superstar Kenny Omega, wearing a bear costume, which, in retrospect, made much more sense and is something we all should have seen coming.
Yes, that really happened #ROH16th pic.twitter.com/r1dHYP0dBY

— ROH Wrestling (@ringofhonor) March 10, 2018
Omega, still clad in bear attire, hit Rhodes with the V-Trigger before posing for the crowd. Later, after 16th Anniversary went off the air, ROH Enforcer Bully Ray told the crowd during an after-show that Omega will be present at Saturday's TV tapings in Las Vegas, so fans who are able to get their hands on the remaining available tickets will get to see Omega and hopefully get some answers about his secret bear lifestyle at the event, while the rest of us will have to wait until the taped episodes air on television.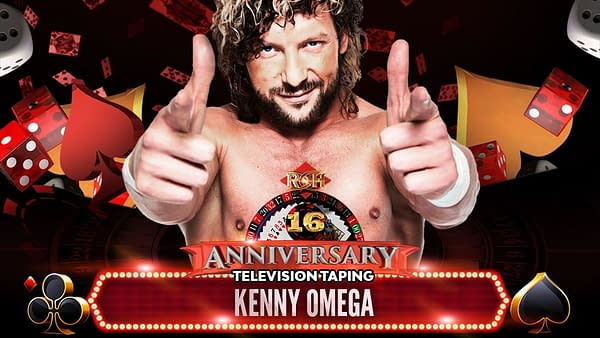 Enjoyed this article? Share it!