Concept Art from The Nutcracker and the Four Realms Shows Off the Realms
We're in the middle of the one of the only times this year where we aren't getting a Disney movie every month. The next one we have to look forward to is The Nutcracker and the Four Realms, which is due out the beginning of November. The holiday movie, based on the ballet that everyone knows, is visually one of the more interesting projects Disney has coming out this year. Producer Mark Gordon spoke to Entertainment Weekly about the classic ballet and doing their own version of the visuals.
"It's such a beloved holiday classic as far as the ballet is concerned," he says, "and yet how many people have an opportunity to see the ballet? … We did our own version of some of the different visuals that one has seen over the years in some of the classic ballet versions," says Gordon, while production designer Guy Hendrix Dyas adds, "It was vitally important to try my hardest to fulfill everybody's vision of what this world would be like if they really saw it outside of a ballet stage setting."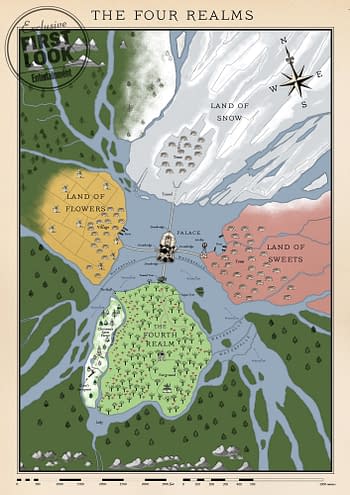 Production designer Guy Hendrix Dyas went on to say that while he wanted this world to look like something a kid would think up, he still wanted a level of logic to everything as well.
"I tried desperately to make a logic to this entire universe, so the 5-year-old me would believe this world," he says. "I remember as a kid going to see a lot of films and not quite buying into some of these worlds because they weren't built from the ground up as real societies."
Gordon went on to say that they built a lot of these sets because they didn't want the movie to feel too "green screen-y".
"This is not a green-screen movie," Gordon says. "We actually built these sets. We wanted the audience to feel the reality and almost have a tactile experience, even though they're not literally touching it. You can feel the difference between virtual sets and real sets."
We have pieces of concept art for all of the four realms and the palace.
The Palace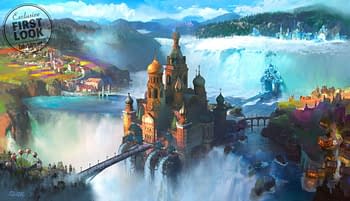 "[We] veered away from the more traditional fairy castles and chateaus we've seen in recent years," says Dyas. "There's a strong Russian historical context to The Nutcracker, so it was a very natural aesthetic to start studying architecturally. The child in me looked at some of those gorgeous Russian buildings with all their bright colors and onion-topped towers, and I realized very quickly what I was looking at were heaps of candy and flowers."
Land of Flowers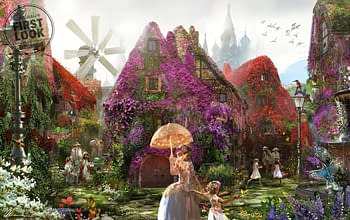 "There are windmills in the Land of Flowers, and they're farmers, so there's the production of flour and wheat, and all the primary functions of a society are done there. We took it seriously and adorned the sets with live flowers," he notes. "It wasn't about making the flowers look real; it was about getting the perfume in the air and allowing the performers to really feel the magic of what it must be like to be in a world of flowers."
Land of Snowflakes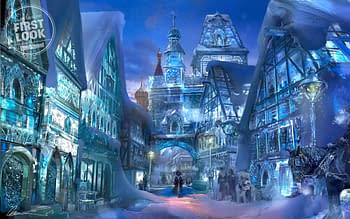 For this realm of politicians, ice producers, and miners, Dyas took inspiration from a famous Swedish ice hotel and 16th-century German villages, transforming that architecture into layers of ice. "The most fun was coming up with their transportation system, which is primarily sleighs with deer," Dyas recalls. Foy says that walking into elaborate sets like these felt just as magical for her as an actor as it was meant to feel for the character of Clara: "It was like you walked into a new world."
Land of Sweets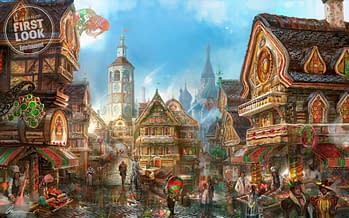 "They had to put signs that said, 'Don't eat the candy,'" says Foy. "I'm like, 'I want to eat it now that I know that it's real!'" Dyas remembers the sets being irresistible temptations for younger members of the cast. "I won't name names, but one of our younger cast, every time I turned up on set, his cheeks were filled like a hamster," Dyas jokes. "A lot of [them] didn't eat their lunch that day."
The Fourth Realm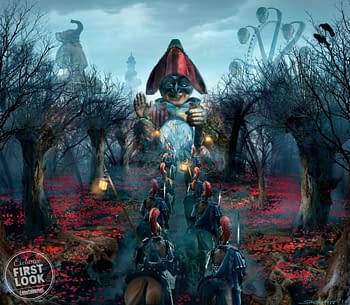 Says Foy "It's creepy trees and all that kind of stuff, and it was very big and it was beautiful. Those were very, very impressive sets." While Dyas won't go into too much detail, he refers to the Fourth Realm as a "mysterious place" that denizens of the world have been afraid to visit for many years. Prior to becoming this strange place, Dyas says, it was the "fun fair and circus center of the world."
Dyas says that the sets they built were so insane that other productions shooting at Pinewood Studios would come over to look at the sets. This movie is going to be visually gorgeous, that much is apparent, but whether or not there is a good enough story to back the visuals up or an audience for this movie remains to be seen.
Summary: A young girl is transported into a magical world of gingerbread soldiers and an army of mice.
The Nutcracker and the Four Realms, directed by Lasse Hallström and Joe Johnston, stars Mackenzie Foy, Keira Knightley, Morgan Freeman, Matthew Macfadyen, Helen Mirren, and Eugenio Derbez. It will be released on November 2nd.