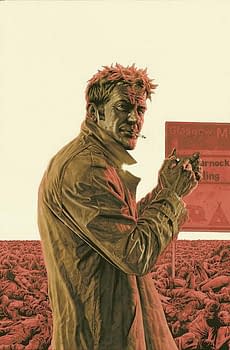 Here's a bit of a surprise… DC's Constantine is in development for NBC TV by David S. Goyer and Daniel Cerone. The character's recent move from Vertigo to the New 52 may make a lot more sense from DC/WB's perspective in light of this development. Brendon will be along in a few hours to dig into this further, I suspect. In the meantime, here's the word from Deadline.
Warner Bros. TV and DC Comics are on a roll this development season with a third high-profile project. Constantine, a drama based on the characters in DC Comics' John Constantine stories, has sold to NBC with penalty. It is written/executive produced by The Mentalist executive producer Daniel Cerone and David S. Goyer, the go-to writer for Warner Bros.' feature DC adaptations. Constantine centers on John Constantine, an enigmatic and irreverent con man-turned-reluctant supernatural detective who is thrust into the role of defending us against dark forces from beyond.
Enjoyed this article? Share it!