Daily 'Dune': Rebecca Ferguson Says Josh Brolin is a "Real B**ch"
Okay okay, so maybe Rebecca Ferguson said what she did about Josh Brolin with a HUGE laugh, but it's too good not to lead with considering who the two are playing in Dune.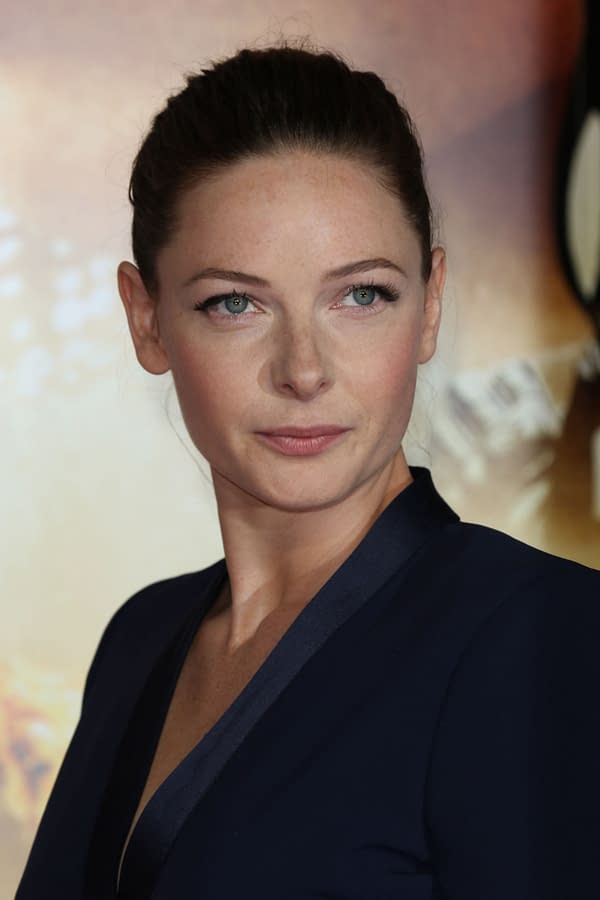 Ferguson, who we kind of fell head over saffron silk in love with during Mission: Impossible- Rogue Nation, is playing a pretty important role in Legendary Pictures' upcoming adaptation of Frank Herbert's seminal sci-fi tome, Dune. She'll be taking on the role of The Lady Jessica in director Denis Villeneuve's adaptation- Jessica is a Bene Gesserit, mother of Paul Atreides, concubine of Duke Leto, and mother of St. Alia of the Knife.
While speaking recently with Total Film Magazine, Ferguson (who was apparently on set at the time) admitted that she often carries around the novel on set, referring to it as "the bible to the film." No word on if it was the Orange Catholic version or not. (That's a book joke, btw.)
This is a snipet from the interview taken from the most recent issue of Total Film, which actually included a not-so-small portion about the upcoming Men In Black: International, that stars Ferguson, Chris Hemsworth, Tessa Thompson, Emma Thompson, Liam Neeson, and The Worm Guys: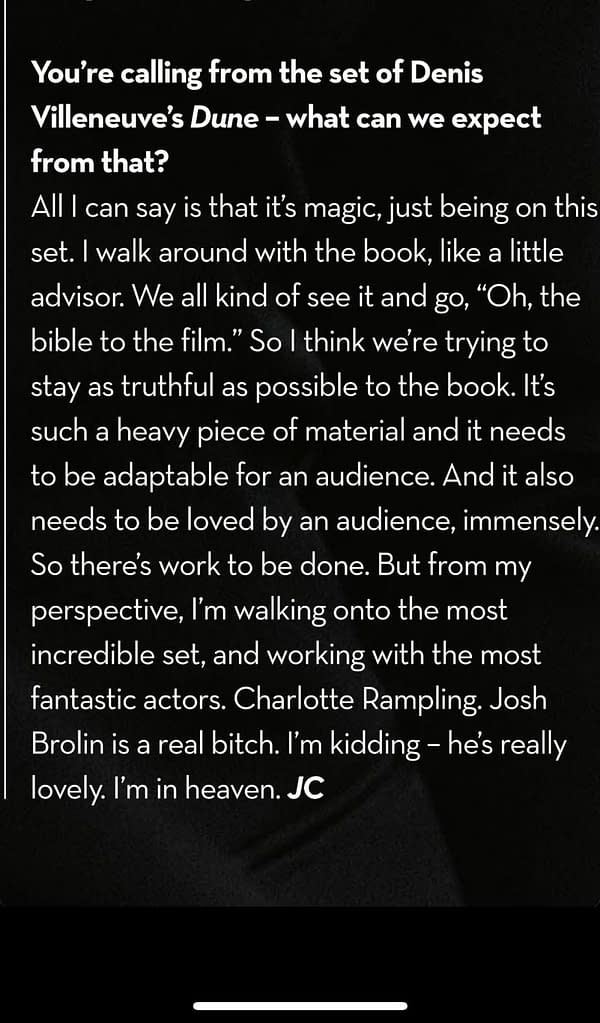 Two-time Oscar nominee Timothée Chalamet will star as Paul Atreides, Rebecca Ferguson as Lady Jessica Atreides, Oscar Isaac as Duke Leto Atreides,Josh Brolin as Gurney Halleck, Stellan Skarsgård as Baron Harkonnen, Zendeya as Chani, Jason Momoa as Duncan Idaho, Javier Bardem as Stilgar, Charlotte Rampling as Reverend Mother Gaius Helen Mohiam, David Dastmcalchian as Piter De Vries, Chang Chen as Dr. Yueh, and Dave Bautista as The Beast Raban Harkonnen. Hans Zimmer will be composing the score.
Set on the planet Arrakis, we find ourselves exploring the story of two warring galactic royal families House Atreides and House Harkonnen. When Duke Leto Atreides is assassinated, his son Paul and wife Lady Jessica escape only to be adopted by the Fremen, who becomes Paul's personal army against the Harkonnen as he develops powers from the spice, a substance that extends life and powers interstellar travel. A tangled web of royal intrigue is revealed with the Emperor and other cosmic powers pulling the strings while attempting to erase house Atreides.
Dune is set to hit theaters on November 20th, 2020.
Shai Hulud.