Damon Lindelof Is Writing A Post 'Skywalker' Standalone Star Wars Film
Star Wars on the big screen has been on the backburner since 2019, and there didn't seem to be a lot of push to get one of the most famous franchises of all time back in theaters. Star Wars has been taking up plenty of space in streaming, releasing many live-action and animated shows to critical acclaim and bringing a whole new generation of heroes to the forefront of the mythology. However, Disney had three significant places where they could have revealed plans for Star Wars on the big screen, and they didn't. The first was Star Wars Celebration Anaheim which would have been the most obvious place, and wasn't anything there. Once Disney announced a Marvel panel at San Diego Comic-Con, we knew that Star Wars wouldn't have a presence; they don't usually overlap in Hall H. The final place was during the D23 Expo last month, but yet again, there wasn't any information.
Finally, Patty Jenkins's Rogue Squadron was officially removed from its 2023 release date, and there weren't any Star Wars films on the immediate horizon. There are plenty of projects in varying levels of development, including one from Taika Waititi, a trilogy from Rian Johnson, a film from director J. D. Dillard, and writer Matt Owens, though the last we heard Waititi's project was next on the belt. Now there is another film on the horizon. The Hollywood Reporter has the first details on a movie from writer Damon Lindelof and director Sharmeen Obaid-Chinoy.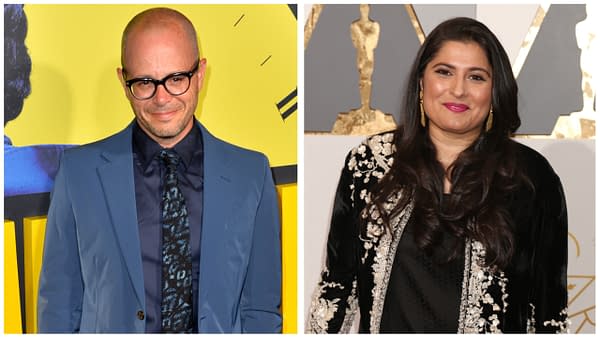 Exploring A Post-Star Wars: The Rise Of Skywalker World
No matter how you feel about all of the Disney live-action television series, there is no denying that they have been extremely limited regarding what era they are exploring. So far, people have been hesitant to explore too far outside of the timeline of the Skywalker movies and mostly stuck to those periods. The time between the prequels and the main trilogy is the era where most of the television shows have taken place [Obi-Wan Kenobi, Andor, Star Wars Rebels, Star Wars: The Bad Batch] with the other time period between the main trilogy and the sequel trilogy [The Mandalorian, The Book of Boba Fett] being the other. Sources are saying that Lindelof's new movie will be a standalone feature that will take place after Star Wars: The Rise of Skywalker and won't be a continuation of the saga. Sources note that "it could, however, feature some of the characters from the Star Wars trilogy made in the 2010s."
The writer's room and everything about this project have been done in secret, with Lindelof working with Justin Britt-Gibson (Executive Story Editor on The Strain] on the script. However, it seems that this writer's room isn't something that has been going on for over a year and we are just hearing about it. According to THR, the "writer's room that began coming together after this year's Star Wars Celebration. The room held a two-week session in July, and at the table were Patrick Somerville, who worked with Lindelof on Leftovers and then went on to create the buzzy Station Eleven; Rayna McClendon, a consulting producer on Lucasfilm's own Obi-Wan Kenobi and writer on the company's upcoming Willow series; and Andy Greenwald, the creator of the 2019 Rosario Dawson crime drama Briarpatch (on which McClendon was a story editor), among a couple of other writers. Dave Filoni, a protégé of Star Wars creator George Lucas who is involved in many of the shows, may have also been present."
On Sunday, news broke that Sharmeen Obaid-Chinoy, who directed two episodes of Ms. Marvel, was on board to direct, which was the catalyst for all this new information about the writer's room coming out. All the sources say that Lucasfilm is looking to focus more on standalone movies rather than building trilogies which is probably the right decision. The lack of narrative throughline was what really kneecapped the sequel trilogy, no matter how you feel about those movies. Right now, there isn't a spot on the release schedule for another Star Wars movie until 2025, but that isn't that far away if we're being honest. These are massive movies that require huge shoots, and this writer's room was just put together this year. While there is the chance that Disney could put this project or another Star Wars project on an earlier release date, they probably won't. Star Wars is doing just fine for them over on streaming, and there is no reason to rush this or any Star Wars project. They want to get it right, and rushing was the thing that hampered Star Wars' great return to the big screen. More details will likely come out in the coming years, but if we were betting on anything, Star Wars won't be on the big screen again until 2025, and that's good if the movie that ends up getting released is excellent.