DC Studios: 5 New Movies Announced For "Chapter 1: Gods and Monsters"
James Gunn and Peter Safran have unveiled the new slate of five films for DC Studios, including Superman, The Authority, and more.
---
The DC slate is here after many weeks of teasing. The world of the DC universe has been up in the air for months now, and things have been in flux since the latest Warner Bros. acquisition. It was unclear just how messed up things were behind the scenes, but it became more and more apparent that things weren't going well when August hit, and Batgirl was shelved after filming was completed. Then James Gunn and Peter Safran were brought on to head the studio and have been teasing the new slate ever since. We got a taste of that first slate today, which is being called Chapter 1: Gods and Monsters and contains five films and five shows to premiere on streaming. Some of these projects we've known about, but others are entirely new so let's look at the five films and what we know about them via The Wrap.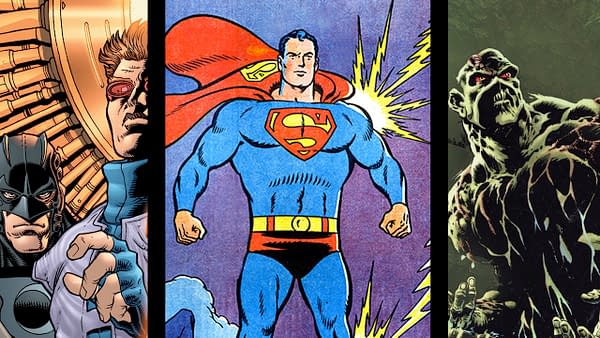 Superman Legacy
We knew that a Superman movie was on the way, it was already announced, and we knew that Guinn was going to be behind it, and it already has people annoyed about it. We do have some new details, and it sounds like this is going to be the thing that will kick off the new slate on the big screen. The film is called Superman Legacy, and they are explicitly saying it is not an origin story which is probably the right way to go. We have seen this origin and don't need to see it again. In terms of film, this is also the only project with a release date.
"This is really the start of the DCU. It's currently being written by James and I sincerely hope that he can be persuaded, perhaps, to direct it as well," Safran said. "It is not an origin story, it focuses on Superman balancing his Kryptonian heritage with his human upbringing," Safran added. "He is the embodiment of Truth, Justice and the American Way. He is kindness in a world that thinks of kindness as old fashioned."
A tentative release date of July 11, 2025, is set.
The Authority
Here is one that will raise some eyebrows and shows that Safran and Gunn aren't going to play it safe when it comes to the project they are bringing to the big screen. The Authority first appeared via publisher Windstorm in May 1999 in The Authroty (vol. 1). Warren Ellis and Bryan Hitch created the characters. They are a "get the job done, damn the consequences" type of characters, so they are somewhere between The Suicide Squad and the Justice League.
"One of the things with the DCU is it isn't just a story of heroes and villains, and not every movie and TV show is going to be about good guy versus bad guy, giant thing from the sky comes, and good guy wins," Gunn explained. "There are black hats, white hats and gray hats. There are people that are anti-heroes, and there are people that are very questionable, like The Authority, who basically believe that you can't fix the world in an easy manner, and they sort of take things into their own hands."
The Brave and the Bold
The Brave and the Bold will be a title that people recognize, but this isn't the show that they think it is. In 2006, DC brought in the character of Damian Wayne, the son of Bruce Wayne and Tahlia al Ghul. He was raised as an assassin and eventually becomes a Robin during the Grant Morrison run in Batman #657. If you thought that they couldn't do anything new with Batman, then you thought differently because we are getting full-blown dad Batman with this film. Bruce has always been a low-key dad to all of the various Robins, but none of the movies that explored that, with his only live-action appearance aging Dick into a young adult. Gunn specifically uses the word "little son" here, so here comes dad Batman. It's way past time.
"This is the introduction of the DCU Batman, Bruce Wayne, and also introducing our favorite Robin, Damian Wayne, who is a little son of a bitch assassin murderer," Gunn said of the film.
Supergirl: Woman of Tomorrow
Did you think we were done with the Kryptonians? It looks like we aren't. After many successful seasons, crossovers on the CW, and an upcoming appearance in The Flash, it seems like we have more Supergirl on the way. It's a little silly that the DC universe had a Supergirl that was well-liked right there on TV but didn't seem to have any idea how to bring her to the big screen. Movies have had a hard time with the Kryptonians, so it's good to see that they are exploring more of them. Regarding inspiration, we're going with a more recent run from Tom King that ran from 2021-2022 and was an eight-issue run. Between this and The Brave and the Bold, it looks like Gunn and Safran are drawing from more recent comics, not just the classics.
Gunn explained: "In our [DCU], we see the difference between Superman, who was sent to Earth and raised by loving parents from the time he was an infant vs. Supergirl, who was raised on a rock chip off of Krypton and watched everyone around her die and be killed in terrible ways for the first 14 years of her life."
Swamp Thing
That loud squeal of joy you heard was a million Swamp Thing fans yelling out in happiness. Swamp Thing isn't exactly the most beloved character, but like horror fans, the people who love him are absolutely obsessed with him. Much like the MCU, Gunn and Safran want to ensure that there isn't just a diversity of storytelling but also a diversity of genre and tone. We don't know much about this one other than it is going to explore the "dark origins" of the character, which probably isn't a bad thing to explore. Right now, the only people who aren't comic readers that know anything about this character are people that watched the shortlived show, so an origin for this one? Perfectly fine.
"These stories, although they're interconnected, they're not all tonally the same," Safran said. "So each set of filmmakers brings their own aesthetic to these films, and the fun is seeing how these tonally different works will mash-up in the future."
There are still a ton of other details we will have to dig into as we look into more of the DC slate coming out of this massive announcement. Does all of this make you excited for the future of the DC universe? Be sure to head over to TV to see the five shows that are coming out in Chapter 1 as well.