"Artemis Fowl": Will Book Fans Be Happy with Disney Changes? [TRAILER]
When Disney revealed the teaser for Artemis Fowl, the film was originally scheduled for a 2019 release. Disney since pushed the release date to summer with some dramatic changes at least from the source material. Based on the Eoin Colfer sci-fi fantasy novels, director Kenneth Branagh along with screenwriters Conor McPherson and Hamish McColl made some considerable changes to the title character.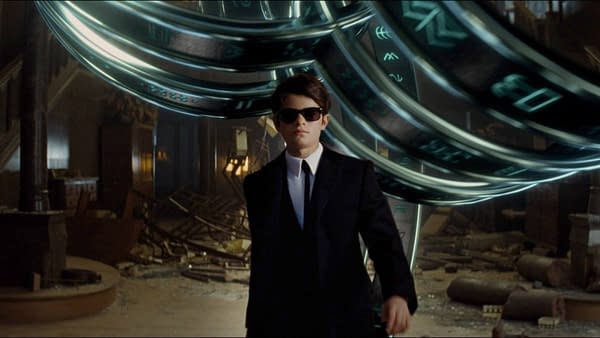 Differences from Books to Film
Artemis Fowl (Ferdia Shaw) is no longer the cold, calculating ruthless bane of fairies as depicted in the books. As a child mastermind and genius, he held them for ransom so he can steal their gold. Artemis reflects more of an innocent child who discovers his father is a mix between Lara Croft and Bruce Wayne. He gets to play with all his toys and far removed from his anti-hero counterpart. The trailer establishes his initial fairy foes Holly (Lara McDonnell) and Mulch (Josh Gad) as his friends and allies.
Obviously, as a trailer, it's just a microcosm of things to come. It doesn't bode well for anyone who hopes to see something that resembles the novels. So "Men in Black" with fairies it is.
"Artemis Fowl" Synopsis
Disney's "Artemis Fowl," based on the beloved book by Eoin Colfer, is a fantastical, spellbinding adventure that follows the journey of 12-year-old genius Artemis Fowl, a descendant of a long line of criminal masterminds, as he seeks to find his father who has mysteriously disappeared. With the help of his loyal protector Butler, Artemis sets out to find him, and in doing so uncovers an ancient, underground civilization—the amazingly advanced world of fairies. Deducing that his father's disappearance is somehow connected to the secretive, reclusive fairy world, cunning Artemis concocts a dangerous plan—so dangerous that he ultimately finds himself in a perilous war of wits with the all-powerful fairies.
Artemis Fowl also stars Tamara Smart, Nonso Anozie, Josh McGuire, Nikesh Patel, Adrian Scarborough, Miranda Raison, Colin Farrell, and Judi Dench.
The film (tentatively) comes to theaters on May 29th. Check out the official trailer below.