Dow Plummets After Cloverfield Paradox Earns 16% Rotten Tomatoes Score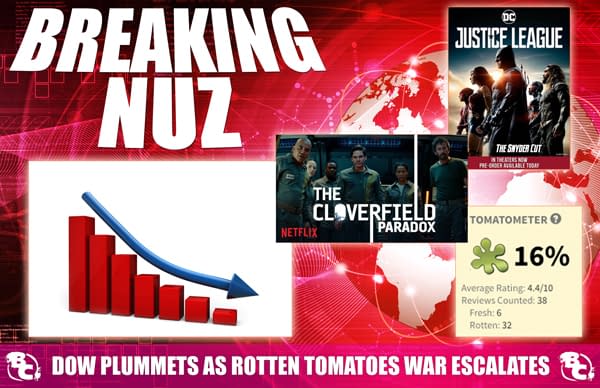 The Dow Jones Industrial Average suddenly fell more than 1500 points Monday before recovering to remain down 1000, just hours after the Rotten Tomatoes score was revealed for The Cloverfield Paradox, the third Cloverfield movie released after a surprise announcement during the Super Bowl. The film scored a 16% rating with 32 rotten reviews and 6 fresh ones as of press time, a huge disappointment for the movie, which was highly anticipated by fans of the franchise. Soon after the Rotten Tomatoes score hit the web, the Dow Jones Industrial Average began dropping, with news outlets like NBC firing off a series of increasingly alarming tweets.
In a surprise announcement during Sunday's Super Bowl, Netflix dropped a teaser for the film, expected for an April release, revealing that the movie would be available to stream immediately after the Super Bowl. But though fans of the first two movies were optimistic and rushed to watch the movie after the game, but they may have been leaping headlong into disaster, like Dwayne "The Rock" Johnson on the poster for his upcoming action flick, Stock Exchange, in which the star's family is trapped in an imploding market and only Johnson can save them.
Due to the short notice, and possibly on purpose, no screeners had been sent to critics prior to the release, leading viewers to enter into the movie watching blind, without aggregated critical scores to guide their decision. When the critic score was revealed on Rotten Tomatoes Monday afternoon, originally debuting as low as 11% before rebounding to 16%, it contrasted sharply with the 62% positive audience score, indicating that viewers had accidentally enjoyed the movie without critics to guide them.
The Dow Jones dipped below the psychological barrier of 25,000 points before slightly rebounding and then fluctuating. It currently sits around 24,600 as of press time. For more on whether these events are related, we spoke with world-renowned financial expert, Professor Thaddeus T. Puffinbottoms.
"These two events happened sequentially, so it looks plausible to me," said Puffinbottoms, barely paying attention.
Hey! This is important here!
"Sorry, I'm trying to shift all of my assets to bitcoin," the professor explained. "This is bad. It's really bad."
Could the poor critical reception of a Netflix movie really cause this kind of financial chaos?
"The war between critics and moviegoers has been intensifying, and it was only a matter of time before we saw something like this occur," Professor Puffinbottoms explained. "You saw it with Justice League. You saw it with The Last Jedi. Now you've got organized attempts to sabotage the score of Black Panther in retaliation. The destabilization of critic and audience scores has sparked anger, resentment, and ridiculous Change.org petitions. It's helter skelter!"
Asked whether there was any hope to save the country from falling into a second Great Recession or worse, Puffinbottoms said that it would take "something drastic, like Warner Bros releasing the Zack Snyder Cut of Justice League" to stabilize the market. We can only pray that somebody at Warner Bros is listening.