Marvel Celebrates 10 Years of the MCU With Timeline, Contest, and a TON of Posters
Marvel Studios is celebrating their big 10th anniversary this year, in case you didn't hear. To help celebrate, they have launched a new site through Disney Movie Rewards. Once on the site, it contains a timeline for the MCU with descriptions of each film, up to this July's Ant-Man and Wasp. Speaking of that film, there is also a contest where you can win your own private screening of the film with 100 friends (if you know that many people) by spending Disney Movie Reward points. You can enter up to 99 times at 5 points an entry after the first. That is part of an ongoing 'Ten Years of Fandom' sweepstakes that runs through July.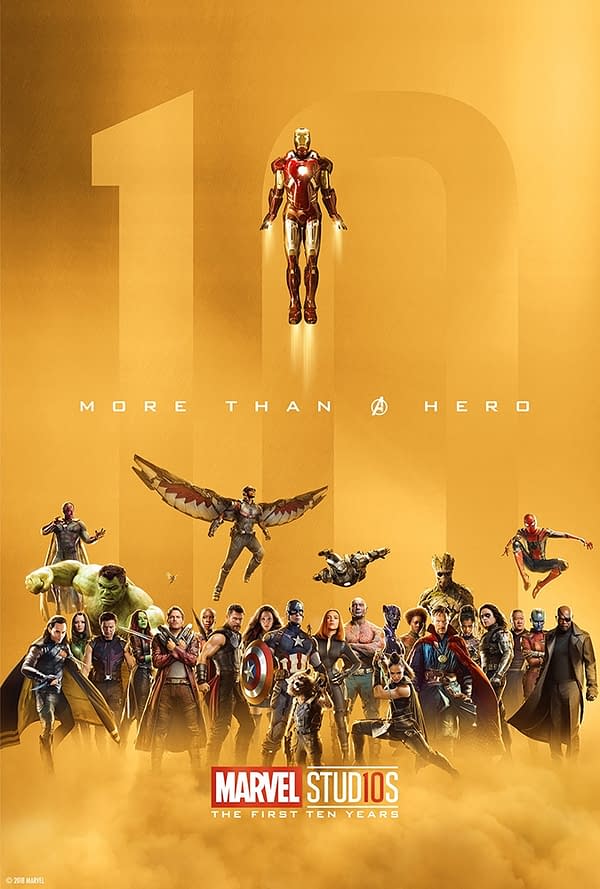 There are also links to purchase 10th anniversary merchandise, a trivia challenge to earn Movie Reward points, news, videos, trailers, all sorts of things. But the main event are the More Than A Hero posters. Encompassing the entire MCU, these character posters celebrate all of the heroes we have come to cherish over the years. 32 posters in all are there. Each also has a tagline specific to the character, like Caps's says "More Than A Shield", and Star Lord's says "More Than A Legendary Outlaw". Some are hilarious, like Rocket's that says "More Than A Trash Panda". All of the "A's" are in the style of the Avengers "A" logo.
I am sure some people will complain about some characters not having one, but I love them. Great choices, that represent all ten years of films, and those inspired tag lines? Hopefully I can collect all of these somehow, the whole collection would look great on every wall of my house.
In order (deep breath): Ant-Man, Wasp, Doctor Strange, Wong, Iron Man, War Machine, Vision, Scarlet Witch, Thor, Loki, Valkyrie, Korg, Heimdall, Hulk, Black Panther, Nakia, Okoye, Shuri, Captain America, Falcon, Black Widow, Nick Fury, Winter Soldier, Hawkeye, Star Lord, Gamora, Rocket, Groot, Drax, Mantis, Nebula, and Spider-Man. Check each one out below!
You can check out the 10th anniversary of Marvel Studios site right here.