Onward is a love letter to all things classic fantasy and D&D but it's also one of those universal stories about how far you would go to see someone you lost.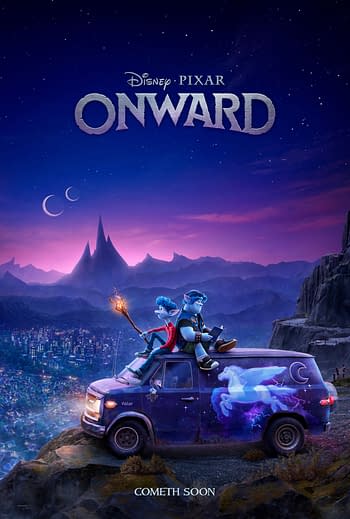 Director: Dan Scanlon
Summary: Set in a suburban fantasy world, two teenage elf brothers embark on a quest to discover if there is still magic out there.
One of the things that makes Pixar Animation so good at what they do is how they manage to tap into universal stories that all of us can relate to. In the case of Onward, they are tapping into something that everyone has dealt with on some level; loss. This is the story of how far you would be willing to go to spend one more moment with a person that you love. In the case of this movie, it's two sons looking to see their dad one more time but this can apply to anyone. How far would you go to see a parent, a child, a friend, a significant other, anyone that you loved and loss for just a little while? The truth is a lot of us would be willing to do almost anything and being able to tap into that need is what makes Onward so moving.
Our two brothers are both coming at the prospect of using magic to see their dad one more time from different angles. Older brother Barley (Chris Pratt) was old enough to have a few memories with his dad while younger brother Ian (Tom Holland) wasn't born yet when his father died. Their motivations are a little different but they are both desperate in different ways to see their dad. When Ian listens to a recording of his dad's voice that he tries to have a conversation with it's relatable. When Barley talks about how he only has three memories of his dad but clearly remembers them without even hesitating it's just as relatable.
All of this has the paint of classic fantasy all over it. The movie establishes that magic used to be a thing that few people knew how to do but existed but as time went on people began to rely on technology that made their lives easier. Now this fantasy world of elves and other creatures looks a bit like ours only. To get the level of nerd that Onward is working on Wizard's of the Coast, the company that creates Magic: The Gathering and Dungeons & Dragons gets a special shoutout in the credits for some carefully placed objects that longtime fans will no doubt get a kick out of it.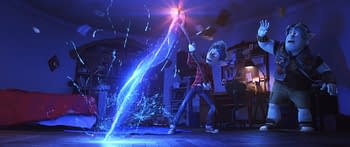 Those little details show that director Dan Scanlon isn't just using the fantasy setting as a backdrop because it might bring people in. In fact, the cuts are so deep that there's a good chance they are going to go over the layman's head. It isn't distracting in any way but seeing this movie with a nerd who is into this stuff is going to be a different experience compared to someone who isn't. That is why it's so important that the story of Ian and Barley and how they want to see their dad is so universal; the story needs to keep people who aren't here for D&D jokes engaged and for that to happen it needs to appeal broadly. It doesn't make the story bad but it does mean the devil is in the details. Those details are the things that will likely take this from a midtier Pixar movie to one of the favorites of those who watch it.
Onward is more niche when it comes to the little things that made it go from good to great but its universal story that everyone can relate to on some level is still incredibly strong. There is a lot of love crafted into the nuance of this movie and while it isn't going to change the landscape for Pixar movies it is yet another extremely solid entry in their already very impressive library.
Enjoyed this article? Share it!