There is a certain level of comfort that goes into playing a character that you know really well. There are several members of the Marvel Cinematic Universe who have had multiple movies to get their heads around a character. For Elizabeth Olsen, in an interview with Yahoo Movies, that meant that she was much more comfortable filming Avengers: Infinity War and Avengers 4 than she was filming Avengers: Age of Ultron.
"This is my favourite arc, my favourite character arc," Olsen explained. "Ultron was really fun because I got to be with Aaron [Taylor-Johnson] and that was also a large story, and twist, but now I feel more confident and comfortable on set. [Age of Ultron] was not comfortable, and now that it's third time around, and fourth time around, or whatever the number is, there's an ease to it now that we've lived with these characters a little more. Now that we've decided what our relationships are with each person, it's already established, it's in development and it just gets better."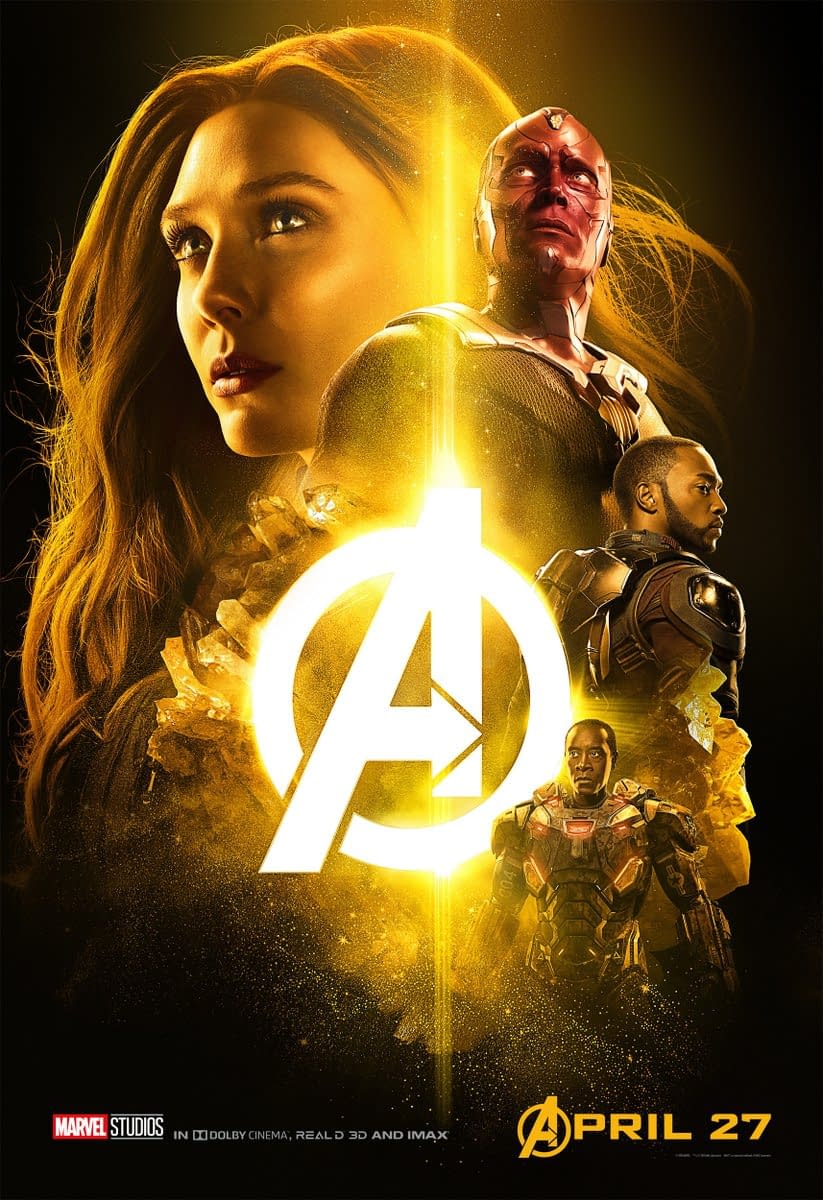 For Vision actor Paul Bettany, the fact that everyone has some experience with their characters made for a very unique set experience.
"This film didn't feel like any other film that I'd made," he told Yahoo Movies, "Usually films, film sets, feel very similar and this didn't. You were aware of how enormous it was the whole time."
Marvel casting has always been on another level, but it's nice to hear that these people who seem born to play these roles have a hard time settling in at first.
Summary: As the Avengers and their allies have continued to protect the world from threats too large for any one hero to handle, a new danger has emerged from the cosmic shadows: Thanos. A despot of intergalactic infamy, his goal is to collect all six Infinity Stones, artifacts of unimaginable power, and use them to inflict his twisted will on all of reality. Everything the Avengers have fought for has led up to this moment – the fate of Earth and existence itself has never been more uncertain.
Avengers: Infinity War, directed by Anthony and Joe Russo, stars Robert Downey Jr., Josh Brolin, Mark Ruffalo, Tom Hiddleston, Chris Evans, Chris Hemsworth, Jeremy Renner, Chris Pratt, Elizabeth Olsen, Sebastian Stan, Benedict Cumberbatch, Paul Bettany, Chadwick Boseman, Benedict Wong, Zoe Saldana, Karen Gillan, Vin Diesel, Dave Bautista, Pom Klementieff, Scarlett Johansson, Don Cheadle, Tom Holland, Bradley Cooper, Sean Gunn, and Anthony Mackie. It will be released on April 27th.
Enjoyed this article? Share it!