Evan Rachel Wood is not just an actress, she's also a pretty damn good singer. Perhaps you didn't see the fabulous Across The Universe film where she sang classic The Beatles songs. Perhaps you don't know she has a band with fiancé Zach Villa, Rebel and a Basketcase.
The Celebrating David Bowie concert tour announced the Westworld actress today on their various social medias, stating that she would be appearing at the Las Vegas (Feb 27th) and Los Angeles (Feb 28th) dates.
"We're excited to announce that the amazing Evan Rachel Wood will be joining us on tour with us as a special guest in both Las Vegas and Los Angeles. Evan is an Emmy and Golden Globe nominated actress currently starring in the critically acclaimed HBO series Westworld. She's also known for her roles in the film Thirteen and the Beatles musical drama Across the Universe and is one-half of the electro-pop music group Rebel and a Basketcase. "
Celebrating David Bowie began shortly after the icon's passing in 2016, and is a collection of musicians and artists who played with him during his various career phases. In 2017, one of the notable guests that joined the tour was none other than Gary Oldman, who sang such Bowie classics as "Five Years", "Dead Man Walking", and "Man Who Sold The World".
Also joining in on the North American leg of the tour is Living Color frontman Corey Glover! He'll be appearing at the Silver Spring (Feb 10th), Philadelphia (Feb 11th), and New York City (Feb 12th), and Albany (Feb 13th) shows.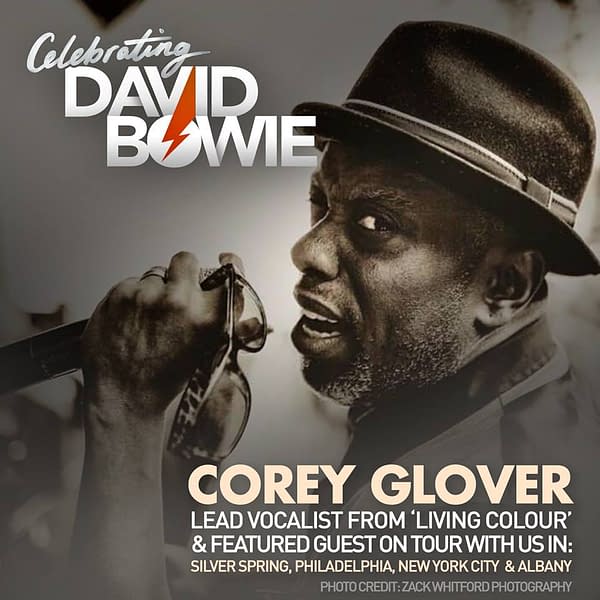 Tickets are available now on the tour's website.
Enjoyed this article? Share it!