Only one day left to wait before we get our official Hellboy trailer, unless you were one of the few who happened to notice that someone accidentally tweeted the trailer at around 8pm (PST) last night via the reboot's Twitter account. No really, that happened, and the trailer disappeared as quickly as it hit. But, we know that Lionsgate is releasing the trailer on Thursday, December 20th.
We're getting away from the point- which is that thanks to Entertainment Weekly, we've got a new look at Big Red (played by David Harbour) and two members of the B.P.R.D., the Bureau for Paranormal Research and Defense.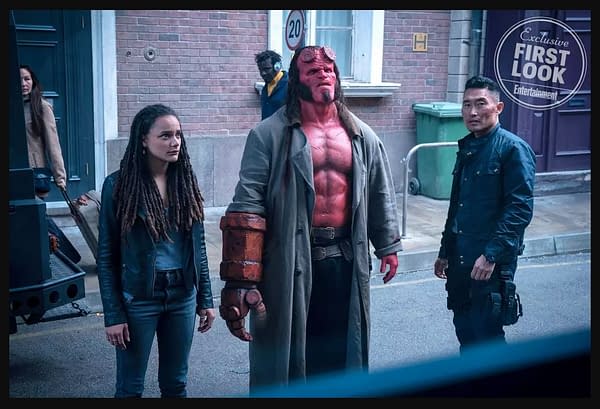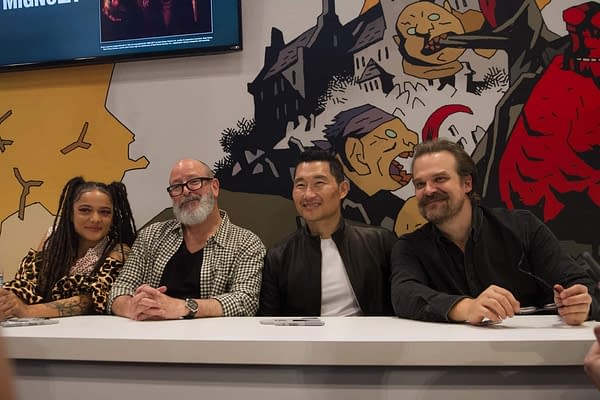 The photo comes with some additional Hellboy insight from Daniel Dae Kim, who explained a bit of his character Major Ben Daimio's relationship with Big Red:
"He's definitely got a point of view about Hellboy. Just because they all exist in this universe doesn't make them all friends. There are suspicions and rivalries. As far as how he holds his own, let's just say Daimio has a few tricks up his sleeve."
There is also a mention from Harbour about what we can expect from Milla Jovovich's Nimue the Blood Queen, who will be based firmly on Mike Mignola's Darkness Calls, The Wild Hunt, and The Storm and the Fury three-part comic:
"We really three-dimensionalized her in the movie. She was brought up in a culture that treated her kind a certain way, and it wasn't always deserving. That's the point that becomes compelling to Hellboy and spins his head around."
We can't wait to see the trailer tomorrow, officially.
Hellboy is set to hit theaters on April 12th 2019.
Enjoyed this article? Share it!