Back in January we got a chance to see Assassination Nation and it was one of the breakout hits of the festival. The movie was picked up for $10 million, which is a lot of money for a Sundance movie. NEON has released the first teaser trailer for the movie, which is basically the first minute of the movie (more or less). It sets the mood really well.
A taste of things to come. ASSASSINATION NATION. In theaters September 21. #AssassinationNation pic.twitter.com/MlED6wsWhU

— Assassination Nation (@ANationMovie) June 27, 2018
We also have our first poster.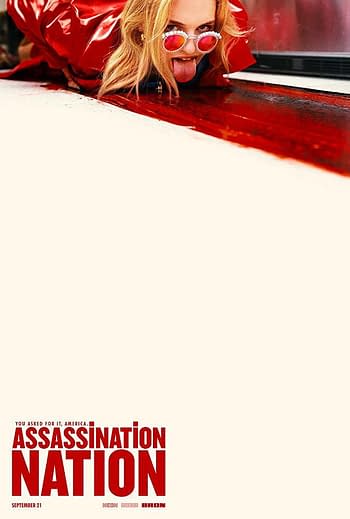 Read our positive review of Assassination Nation from the 2018 Sundance Film Festival here.
Summary: High school senior Lily and her crew of besties live in a haze of texts, posts, selfies, and chats—just like the rest of us. So when a provocateur starts posting details from the private digital lives of everyone in their small town of Salem, the result is a Category 5 shitstorm. We're talking browser histories, direct messages, illegal downloads, secret text chains, and way, way, way worse. People get angry. Like, "rampaging murder posse" angry. And Lily finds herself right in the middle.
Assassination Nation, directed by Sam Levinson, stars Odessa Young, Hari Nef, Suki Waterhouse, Abra, Colman Domingo, Bill Skarsgård, and Joel McHale. It will be released on September 21st in the USA and November 23rd in the UK.
Enjoyed this article? Share it!