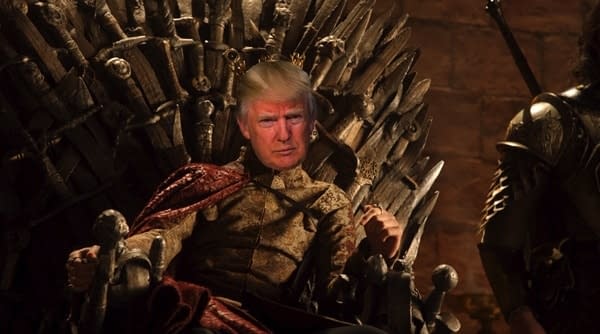 In a recent profile on Game of Thrones star Kit Harington in Esquire, the pervasive subject of President Donald Trump came up, as it tends to do. Author George R. R. Martin was on hand as well (anything other than finishing The Winds of Winter, that's George's motto), allowing both to trash Trump in the same paragraph:
Martin is gratified to see his books and the show used to discuss everything from global warming to Donald Trump. "I think Joffrey is now the king in America," Martin told me, referring to Thrones' sadistic, power-mad brat. "And he's grown up just as petulant and irrational as he was when he was thirteen in the books." For his part, Harington would prefer not to weigh in on American politics. "I believe in experts," he says. He found it "annoying when Sean Penn decided to get involved in the Falklands. I was like, 'It has nothing to do with you, Sean Penn. Fuck off.' " Still, he cannot help himself: "Mr. Donald Trump—I wouldn't call him President, I'll call him Mister," he says. "I think this man at the head of your country is a con artist."
Sounds like Jon Snow knows something after all.
Game of Thrones returns to HBO on July 16. Check out the latest trailer below:
The great war begins 7.16.
Rally the realm. Share the official #GameofThrones Season 7 trailer. #GoTS7 pic.twitter.com/R3K5dm8ecc

— Game of Thrones (@GameOfThrones) May 24, 2017
Enjoyed this article? Share it!