Glass Onion: How The Angela Lansbury, Stephen Sondheim Cameos Happened
There were a lot of fun and surprising little cameos in Glass Onion that were sprinkled throughout the entire movie. Ethan Hawke showed up for two minutes at the dock scene, Joseph Gordon-Levitt was the voice of the Hourly Dong, and Hugh Grant had a very cute little cameo, but two of the best happen right at the beginning of the movie. Benoit Blanc is apparently just like us and spent a large portion of quartine playing Among Us; only his group that he played with over Zoom was a lot more fun than any of ours. He was playing with the late Angela Lansbury and Stephen Sondheim, along with thankfully still-with-us Natasha Lyonne. In an article by The New York Times, director Rian Johnson and producer Ram Bergman talked about the process of bringing the two legends into the fold. It turns out that the scene was brought to life during the editing process as they tried to get Sondheim first.
"I wasn't really sure how to get to him. But then I was on a call with Bryan Lourd, our agent, and it somehow came up. I said, we really would love Stephen to do this. And I swear, five minutes later, he emailed me: he's going to do it," Bergman said. "Rian was in heaven, and I was in heaven because I knew how much he meant for Rian."
Apparently, because legends surround themselves with legends, when they were filming the scene with Sondheim for Glass Onion, Johnson mentioned how they were trying to get Lansbury, and that was how they got an in with her.
Johnson said, "I mentioned to him that we were trying to get Angela Lansbury. And he said, 'Oh, Angie — I'm friends with her. Tell her I'm doing it. She'll do it.'"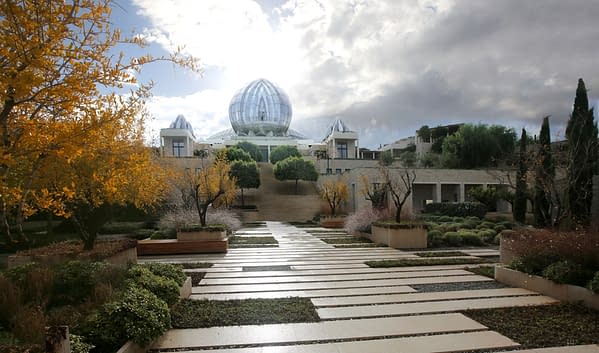 Johnson explained that he went to Lansbury's home and recorded the scene for Glass Onion on his laptop. However, there was one small little misstep that they were having when it came to the scene.
"She couldn't have been lovelier and more generous," Johnson said, adding that Lansbury was perfect for the scene in every way except one: "Not a gamer," he explained. "And so she was very patient in letting me describe the rules of Among Us, up to a point. At which point she just said, 'You know what? Just tell me what the lines are. I'll trust you.'"
Just because you "make it" in Hollywood doesn't mean you are immune to fanboying out when you meet your idols. Johnson explained that he absolutely did a little fanboying when he met the two of them. However, he did add that it's sad now because both Sondheim and Lansbury have since passed away, but he hopes they would have enjoyed the scene in Glass Onion.
"I allowed myself to have that little awkward moment of saying to them what I'm sure every person who meets them says," he said. "But still, it felt really nice to tell them that I wouldn't be here doing this if it weren't for them. … It's sad because, as a fan, I wish they were still around and making stuff. I hope they would have enjoyed the little scene and gotten a laugh out of it."
As for Lyonne, when asked how she felt about being involved in what the Times called "the final curtain calls" for these two legends, she made sure that we knew she was innocent: "Honey, I know what you're getting at, and it wasn't me. I have alibis for both."
Lyonne, who is working with Johnson again for the upcoming show Poker Face, added: "It goes without saying that they were giant losses of two incredible lives well lived. I guess we'll only know if I make it to 90 if I was actually worthy of being up there with them." The moment in Glass Onion absolutely drew some laughs from the crowd I saw it with in a theater, and people have been talking about it, so I think it all worked out well, Rian.
Glass Onion: A Knives Out Mystery: Summary, Cast, Release Date
Benoit Blanc returns to peel back the layers in a new Rian Johnson whodunit. This fresh adventure finds the intrepid detective at a lavish private estate on a Greek island, but how and why he comes to be there is only the first of many puzzles. Blanc soon meets a distinctly disparate group of friends gathering at the invitation of billionaire Miles Bron for their yearly reunion. Among those on the guest list are Miles' former business partner Andi Brand, current Connecticut governor Claire Debella, cutting-edge scientist Lionel Toussaint, fashion designer, and former model Birdie Jay and her conscientious assistant Peg, and influencer Duke Cody and his sidekick girlfriend Whiskey. As in all the best murder mysteries, each character harbors their own secrets, lies, and motivations. When someone turns up dead, everyone is a suspect. Returning to the franchise he began, Academy Award-nominated filmmaker Rian Johnson writes and directs Glass Onion: A Knives Out Mystery and assembles another all-star cast that includes a returning Daniel Craig alongside Edward Norton, Janelle Monáe, Kathryn Hahn, Leslie Odom Jr., Jessica Henwick, Madelyn Cline with Kate Hudson and Dave Bautista. It played in theaters from November 23rd to 29th and streamed to Netflix on December 23rd.