The Flash's Grant Gustin and Tom Cavanagh Play Idiots in New Short Film
Grant Gustin and Tom Cavanagh have been working together for four years now on The Flash. Grant plays Barry Allen, aka The Flash, while Cavanagh has played various versions of Harrison Wells including one that was secretly Eobard Thawne, aka Reverse-Flash. Cavanagh has also taken on directing a few episodes of the series. So, you might thing that these two see enough of each other and could use some time apart. Turns out, NOPE. They have done a short film together called Tom and Grant, that is described as:
"Two brazenly inept thieves attempt to rob a bank without a plan, a clue — or a gun."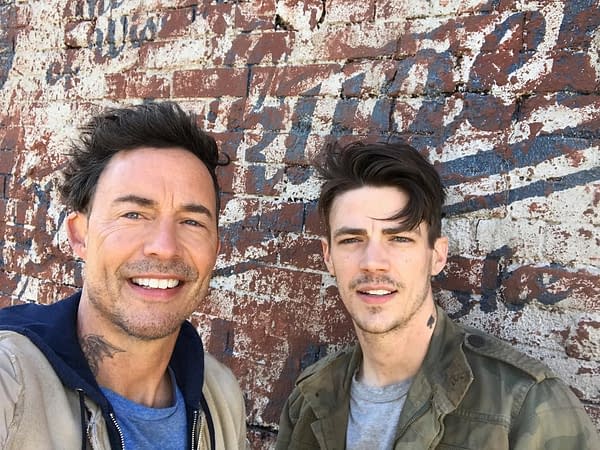 Cavanagh, who is also the writer, director and executive producer of the film, told EW.com:
Part of the subtext to all of this thing that I wrote and directed is political, about the political times that we're living in, but the presentation is completely comic; it's dark comic. The thing that appeals to both Grant and I, and it's not something that we get to do often, but the idea of somebody who thinks they're really, really smart, but in truth is really, really dumb. I find that to be extremely appealing, character-wise. In this scenario, we play Tom and Grant, the two most inept bank robbers ever. It's R rated; it's not for the family. It's got blood and gun-play and heists and car chases, and I think that it's something that both Grant and I are phenomenally excited about putting before the public.
A release date for the short film will be announced in March. The official website is here.