This isn't the first time that Oscar winner Gwyneth Paltrow has unknowingly dropped a piece of what could be termed spoilery information in an interview — lemme start by saying that. She does do pretty well, all things considered, but this is at least the second time this has happened (if this example is actually true).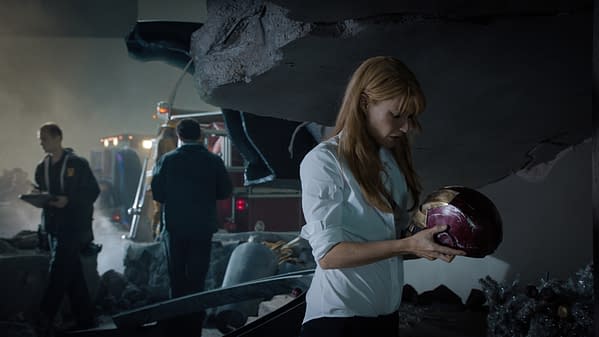 In an interview with the impossible to find (a physical copy, that is) "Avengers Infinity War Magazine", Paltrow apparently let a big ol' Tony Stark and Pepper Potts update that we'll possibly see in Avengers 4 slip.
Twitter'er Ashley Renee posted what she claims is a screenshot of the interview in question from the Infinity War Magazine, which has some news:
so i found this infinity war magazine today that had interviews with the cast and excuse me gwyneth but pepper and tony don't have a child?????? pic.twitter.com/3wspv5fsb7

— ✨🌸ashley🌸✨ (@ashley__renae) May 3, 2018
She followed this up after being asked by a few other Twitter'ers to share a larger photo of the interview:
of course! here you go! pic.twitter.com/ORu04jd8bT

— ✨🌸ashley🌸✨ (@ashley__renae) May 4, 2018
Ashley says she found the magazine at her local Publix, and a closer look at the periodical's cover on the Amazon listing says "please display until July 30th", so maybe it's still forthcoming?
If you can find this magazine, please contact us; we'd love to have some full page images to confirm or deny this interview's validity.
Enjoyed this article? Share it!