Halloween Kills Was "Flicking Fun To Make" Says Star Judy Greer
Halloween Kills is still slated to come to theaters in October for now, and star Judy Greer was recently on Entertainment Tonight and talked about the new Michael Myers film and what it is like to film horror from someone who largely avoided it her whole career. At this point, we haven't seen anything at all really from Halloween Kills, all we know is that the movie is filmed and that it is slated to be released on October 16th. Will it stay there? Nobody knows at all, but Greer's comments have me even more excited, that is for sure.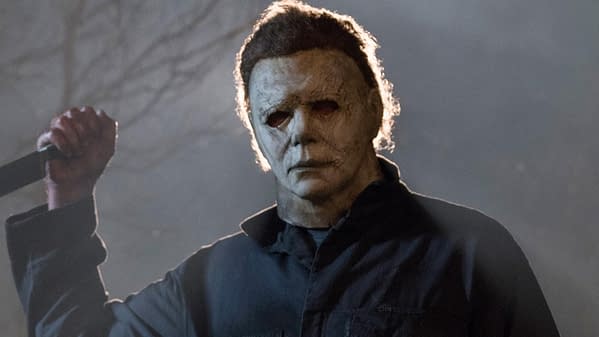 Halloween Kills Should Be Flicking Fun
"I was always out of breath," Greer shared with Entertainment Tonight. "In that first movie, we were saying hi to our old audience and then introducing ourselves to our new audience, like the generation that maybe didn't know the original. And in this movie, we're jumping in, if you catch my drift. I've learned just how flicking fun it is to make them," the actress admitted. "The minute you scream cut in a horror movie, everyone's like, 'Oh my god, that was so cool.' We're all just trying to make it as scary and suspenseful as we can. It's just really fun. I'm excited about doing more. I hope I get to do more horror movies."
Well, hopefully, she doesn't die in this one so she can be in Halloween Ends in 2021. If they did have to delay part two, am I the only one who thinks it would be sweet for them to release both at the same time with a sweet double-feature? No? I think that would be kinda cool.
Halloween Kills, starring Jamie Lee Curtis, Judy Greer, Andy Matichak, Robert Longstreet, Charles Cyphers, Anthony Michael Hall, Kyle Richards, Nancy Stephens, and James Jude Courtney opens on October 16th, 2020.