Halloween, The Original 1978 Classic, Comes to 4K on September 25
Halloween, the 1978 classic from John Carpenter, is coming to 4K Blu-ray. Releasing on September 25th, the horror film to end all horror films comes in a two-disc pack with the film in 4K Ultra HD and a regular Blu-ray. For fans who have purchased this films many iterations over the years, the special features have been seen before. The TV version footage is cool, the Carpenter and Jamie Lee Curtis commentary is a fun time. Let's get into some of the details.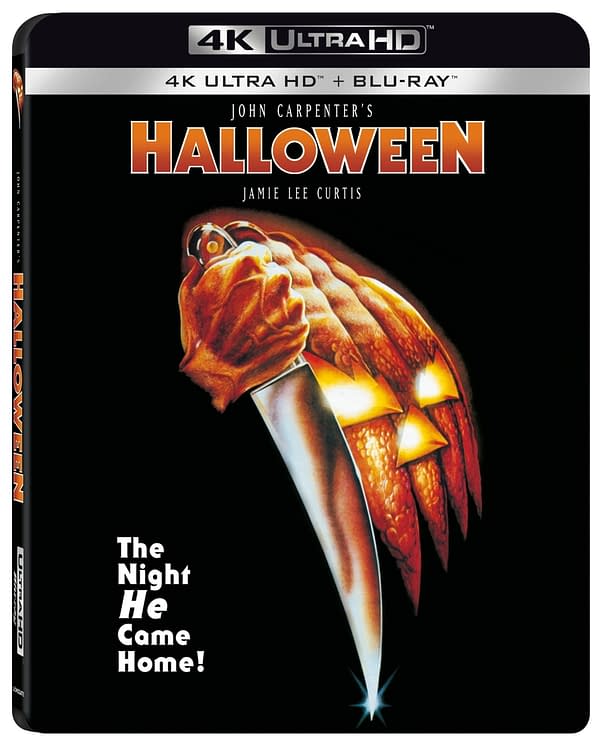 Relive the terrifying film that launched an entire genre when Halloween arrives on 4K Ultra HD™ Combo Pack (plus Blu-ray™) September 25 from Lionsgate. Starring Golden Globe® winner Jamie Lee Curtis (Best Actress, True Lies, 1994), Donald Pleasance, Tony Moran, and P.J. Soles, this edition of the horror classic delivers four times the fear with four times the resolution of Full HD with 4K, which also uses Dolby Vision™ HDR to bring to life the stunning cinematography of this supernatural horror film.

When compared to a standard picture, Dolby Vision can deliver spectacular colors never before seen on a screen, highlights that are up to 40 times brighter, and blacks that are 10 times darker. Celebrating the 40th anniversary of the original 1978 theatrical release, and arriving just in time before the theatrical release of the newest film in the series, the Halloween 4K Ultra HD Combo Pack is loaded with special features and will be available for the suggested retail price of $22.99.

On a black and unholy Halloween night years ago, little Michael Myers brutally slaughtered his sister in cold blood. But for the last fifteen years, town residents have rested easy, knowing that he was safely locked away in a mental hospital — until tonight. Tonight, Michael returns to the same quiet neighborhood to relive his grisly murder again…and again…and again. For this is a night of evil. Tonight is Halloween!
Here are the special features and specs for the discs:
SPECIAL FEATURES
Audio Commentary with Writer/Director John Carpenter and Actor Jamie Lee Curtis
"The Night She Came Home" Featurette
"On Location: 25 Years Later" Featurette
TV Version Footage
Trailer
TV Spots
Radio Spots
Specs
4K Rating: NR
Blu-ray Rating: NR
Genre: Horror
Closed Captioned: N/A
Subtitles: English, Spanish, English SDH
Feature Running Time: 91 Minutes
4K Ultra HD™ Format: Dolby Vision, 2160p Ultra High Definition, 16×9 Widescreen 2.35:1 Presentation
Blu-ray Format: 1080p High Definition, 16×9 Widescreen 2.35:1 Presentation
4K Audio Status: English 7.1 Dolby TrueHD, English Mono
Blu-ray Audio Status: English 7.1 Dolby TrueHD, English Mono
Here is a trailer for the release!
Looks like from the audio specs that this will include the original mono mix, that's pretty sweet. None of the special features look to be anything we have not gotten before either. The main event will be the 4K transfer of the film. Watching that with the original mono track is going to be a must-do for my Halloween plans this year.
John Carpenter's Halloween hits 4K Ultra HD on September 25th.