Harrison Ford's EXTREMELY Harrison Ford Answer for Who Would Play 'Indiana Jones' Post-Him
One of the wonderful things about actor Harrison Ford has always been his no-nonsense attitude when it comes to interviews. Often times this can be construed as him being gruff but always professional, or as with probably one of our favorite interviews ever– charming, honest, and hilarious.
You can probably imagine how tired he is of the same questions about Star Wars, Han Solo, and Indiana Jones, which is why we think his response to a recent question of where the Indy franchise may head if he ever leaves the role is pretty perfectly Harrison Ford. We know that Steven Spielberg and co are hard at work on the script for Indiana Jones 5, and that Harrison, a spry 76-year old, is very much on board to don the fedora and well-worn leather jacket of Marshall College's most popular archeology professor.
He's been making the press rounds to support his upcoming animated film The Secret Life of Pets 2, in which Ford voices Rooster the shepherd. Stopping by The Today Show, Ford talks a little bit about everything in a fabulous interview, and of course, the topic of Indy comes up.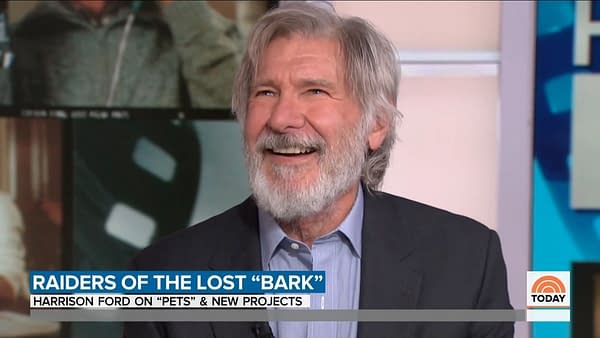 "Oh he's in here somewhere. He wants to come out," Ford says, while scratching his beard.
"When you're done with that role, who would you like to see take over?" interviewer Craig Melvin says.
Ford laughs, and puts his hand on Melvin's shoulder.
"Nobody is going to be Indiana Jones. Don't you get it? I'm Indiana Jones. When I'm gone, he's gone. It's easy," Ford says, smiling. "This is a hell of a way to tell Chris Pine. I'm sorry man." You can hear the studio crack up.
Needless to say, we're very curious to see what happens with the Disney-owned franchise whenever it is that we get Indiana Jones 5.