Hell Fest Review: A Great Start to the Halloween Season
[rwp_box_recap id="0"]
Halloween season is upon us, and while spread out all year, horror fans want to watch horror movies now. This season will have plenty of choices, both in theaters and on the small screen. That being said, this weekend Monster Kids will want to make sure they catch Hell Fest in theaters while they can.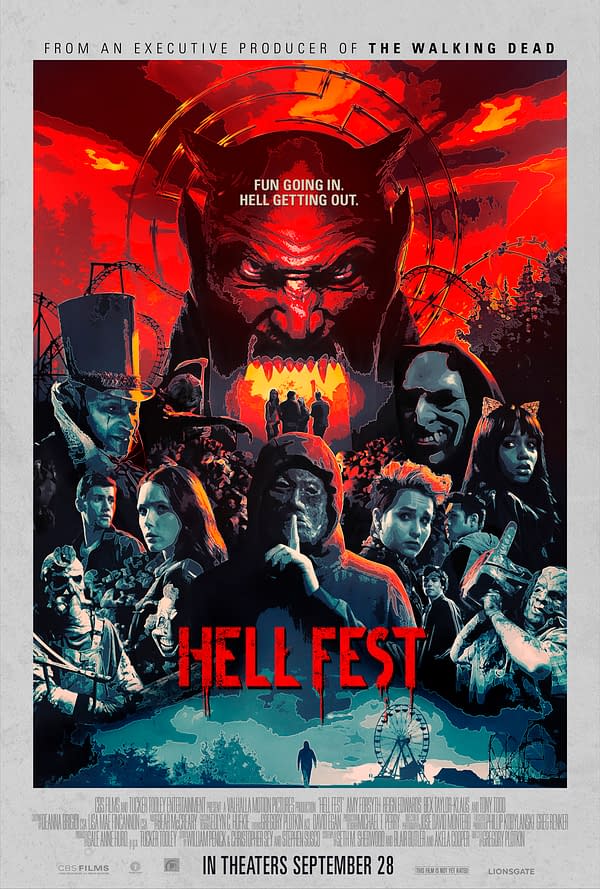 Six friends meet up and attend a horror amusement park called Hell Fest, a Halloween Horror Nights style park with haunted mazes, houses, and scare zones. While there, Natalie (Amy Forsyth) notices a man following them around the park, stalking them through attractions. As the masked killer begins taking lives, people have to decide if it's real, or just part of the show, all while Natalie and her friends try to survive the night.
There is quite a bit to like here. The six leads here all do a great job straddling the line but never falling to the other side and becoming cliche. The relationships between all six feel genuine, especially with Natalie and Brooke (Reign Edwards) and Gavin (Roby Attal). Brooke and Natalie's bond cannot be broken we are told, and it is proven correct by the end of the film. Natalie and Gavin's romance is sweet, from him failing miserably to win her a stuffed animal playing carnival games to their embrace in a photo booth. Asher (Matt Mercurio), Taylor (Bex- Taylor Klaus), and Quinn (Christian James) are also just a ton of fun, Taylor especially. Bex- Taylor Klaus had to have been a ton of fun to be around on set.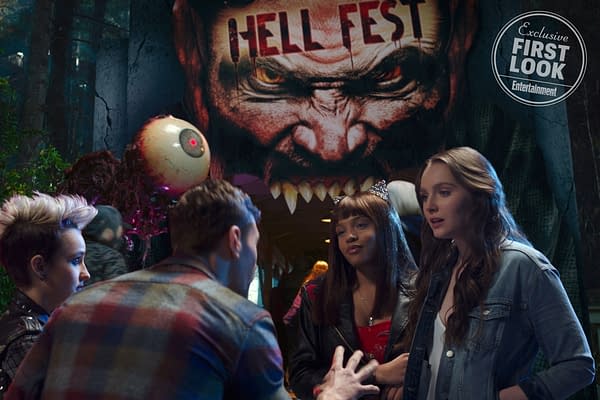 What a set it is. Gregory Plotkin and his team do a great job taking advantage of the carnival setting. People who frequent haunted attractions and theme parks will appreciate all of the winks and nods to those places. The nice thing is that it allows them to get the jump scares out of the way when they are expected, so that the real tension comes from our killer. There are some nice homages to films like Halloween and other slashers that are careful not to come off as rip-offs. Kudos also go out to the costume design team. They had to come up with not only a look for the killer, but all of the creatures and such in the park, and they did a wonderful job. More kudos also go to the production design team for creating a horror theme park we should all be lucky enough to attend.
Hell Fest is entertaining, but not perfect. While the characters are not cliche, some of the situations they are put into sure are. Decision-making in a slasher film is hit or miss, and they fall into the latter more often than not. A few of the kills near the end of the film feel really rushed. Bear McCreary's score is good, but the mix gets a bit too loud in certain points and takes some of the tension out of some scenes. And hey horror filmmakers: strobe lights are annoying. Use something else.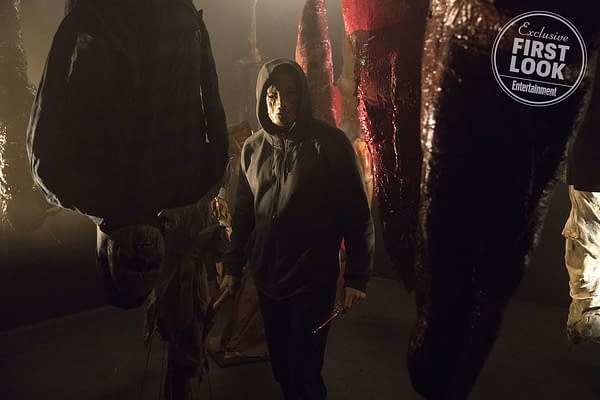 This is a really fun, entertaining entry into the slasher genre. Over time, this will become one horror fans will revisit again and again. Lionsgate recently said that they "want their horror crown back", and this is a good first step to that happening. From the ending (don't worry, no spoilers here) we may not be done with Hell Fest. We should all hope it opens its doors again.