'The Hitman's Bodyguard' Sequel 'The Hitman's Wife's Bodyguard' Happening
Remember how excited we all were when the team-up of Ryan Reynolds and Samuel L. Jackson in The Hitman's Bodyguard was announced? Just me? Okay, fine then, maybe you won't care so much about this tidbit of information coming from Millennium Films at Cannes.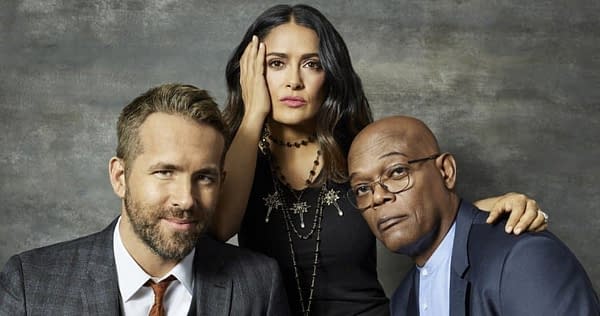 The Hollywood Reporter says there are posters for The Hitman's Wife's Bodyguard are up around the famous Film Festival in France, as well as ones for other notable "coming soon" pictures like Angel Has Fallen, The Expendables 4, Rambo V, and Mechanic 3.
There isn't anything known for sure about this sequel yet, but it's probably a safe bet that Reynolds, Jackson, and Salma Hayek (who played Jackson's assassin character's wife in the first film) would be returning for a second chapter. Especially with the title sort of alluding to a bigger role for Hayek (yes please!).
THR continued, saying The Hitman's Wife's Bodyguard is mentioned in the Cannes market catalog as "The Good. The Bad. And the Batshit cray," which sounds like pretty perfect marketing for a followup to the first. They go on to surmise that Patrick Hughes is thought to be returning to direct and Tom O'Connor is working on the script.
Would you watch another film with these characters, or do you think a new story would be more worth your cinematic time?