Incredibles 2 Will Have Elastigirl "Loving" Being a Hero and a Mom
It was National Siblings Day back on April 10th, and who better to celebrate siblings in the world of Pixar and Disney than Dash, Violet, and Jack-Jack? Jack-Jack isn't exactly happy, so it's up to his two older siblings to cheer him up in a very cute little way using their powers.
Incredibles 2 has been high on the list of movies to watch this year, what with it being a sequel to the best Fantastic Four movie ever one of the best Pixar movie ever. One of the interesting ways this movie is going to turn things on its head is keeping Mr. Incredible home with the kids while Elastigirl goes out to be a hero. Elastigirl's voice actress Holly Hunter spoke to USA Today about what Elastigirl feels like as she goes back into the hero game.
"She finds that there's a certain ecstasy she feels in regaining her persona as a superhero, and at the same time she's very much a parent and loves being one," Hunter says. "It's a kind of celebration of this job. She loves her work and that is so fundamentally expressed in this movie."
Hunter assures everyone that Elastigirl isn't the only one loving her job and that the entire family gets in on it.
"There's a lot that's funny and a lot that's thrilling about how they operate together."
We have a new image as well, and her new costume looks like something out of X-Force — which is kind of funny when you think about it.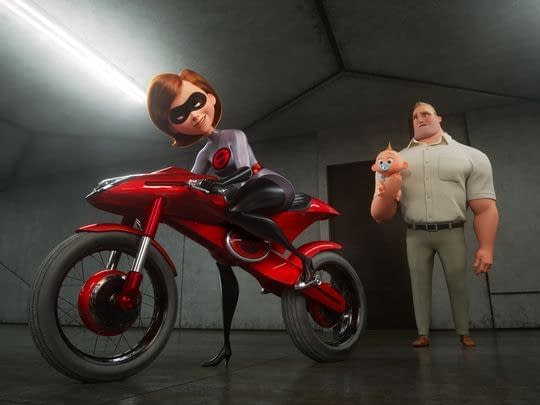 Summary: Bob Parr (Mr. Incredible) is left to care for Jack-Jack while Helen (Elastigirl) is out saving the world.
Incredibles 2, directed by Brad Bird, stars Craig T. Nelson, Holly Hunter, Sarah Vowell, Huck Milner, Jonathan Banks, and Samuel L. Jackson. It will be released on June 15th.