Mondo Now Selling Iron Giant Pins By Tom Whalen And A Shirt
Today Mondo announced and put up for order new Iron Giant pins and a shirt from the beloved animated film. The shirt has a new design by artist Maggie Chiang in an excellent color scheme. The pins are by artist Tom Whalen and feature a bolt, Hogarth, and two of the Iron Giant himself. The shirt will run you $25, while the pins cost $10 each. Mondo has had a great number of items available from this film in the past, and I think it is safe to say that it is one of their favorites.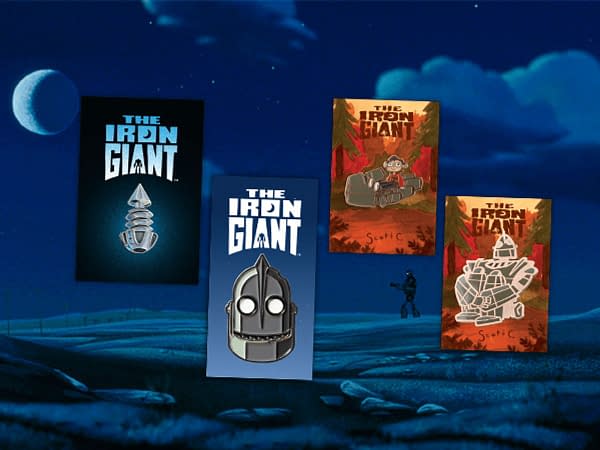 Mondo Iron Giant Pins & Shirt
"THE IRON GIANT has always been close to our (collective) hearts. Anyone who sees Brad Bird's directorial debut can't help but be won over by its elegance, fun, and beauty. The affection and esteem for the film have grown in the two decades since its release, and many (including us) see the story of young Hogarth and his giant robot friend from outer space as one of the great classics of American animation. We've recently featured THE IRON GIANT posters, vinyl soundtracks, figures, and tikis, and now we're excited and honored to expand with a striking new shirt by artist Maggie Chiang. Four enamel pins from Tom Whalen, DKNG, and Scott C. Each are available for purchase right now."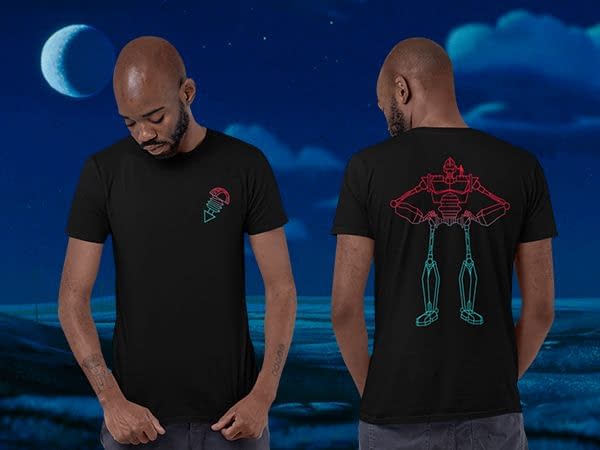 Man, what a week for Mondo collectors. We have this new merch, and then tomorrow's big Back to the Future drop, and whatever they decide to do on Thursday on The Drop. I don't know about you, but I am hoping that Mondo gives my wallet a break later this week. You can order these new pins and shirt by going right here. And for those going for the posters and vinyl tomorrow, good luck.