Okay, I'm a bit late to the party this week. But this week's Marvel's Agents Of S.H.I.E.L.D. What's what?
1. It's A Magical Place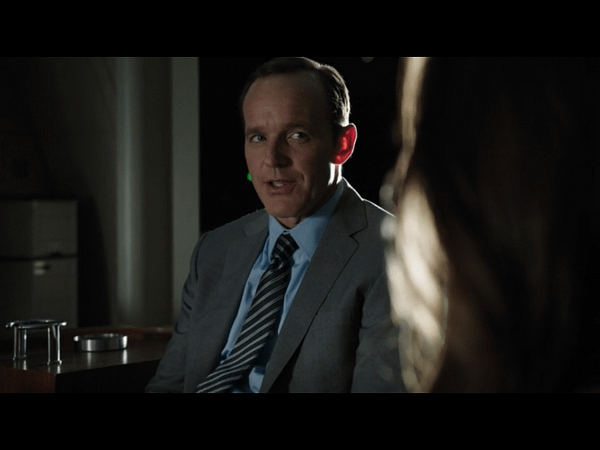 Two episodes in, it's our third description of Tahiti in this fashion. Almost as if they are… hammering it home. What other magical places do we know of in the Marvel Movieverse? Somewhere that brought Agent Coulson back from the dead? Is he a sophisticated zombie now, clutched from the halls of Valhalla?
But there are other magical places being referenced here…
2. Will Someone Get These Motherfucking Snakes Out Of This Motherfucking Garden Of Eden Allegory?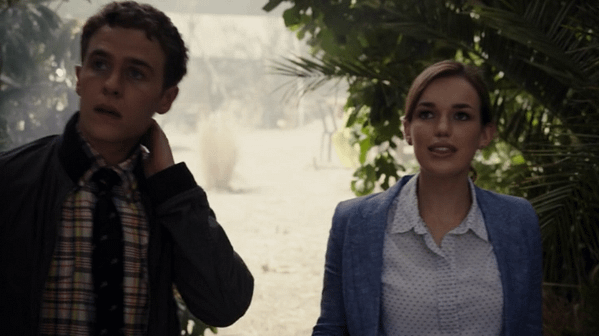 The aim of this episode is to put the team, at odds with each other, in a position where they have to bond to survive. But there seem to be other themes at play. The jungle, full as it is of snakes, is a Garden of Eden. A forbidden fruit that must be plucked, providing the holder with Knowledge. And then driven from the garden by angels with swords – or rebels with machine guns, your choice. And right in the centre, Eve, the betrayer, who tricks Adam and then sees him banished. Not just from the jungle, but also betraying the memories he had of her, and their life together. It always comes down to sex. Also, she's a bit foreign, that;s another sign.
There was a little of this last week too, the man being tempted by the woman to gain great power that then destroys him. But in the second episode, they seem to be layering on the imagery with a trowel. Talking of which…
3. It Needs Some Sugar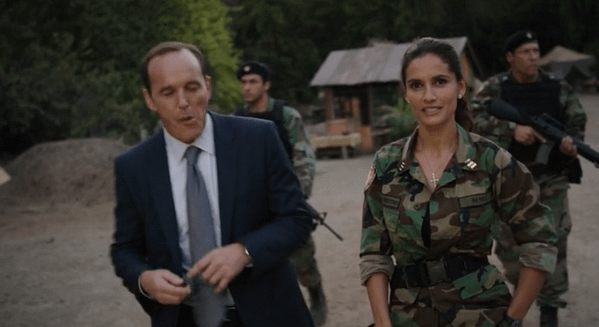 "Americans"- almost a description if the show, the best chocolate that still needs some sugar to appeal to the American palate. In this case, good looking people, stylised reality and a few witty comebacks. But just as that first episode had the scene with the powered up fellow talking about good guys and bad guys and origin stories – threatening to break the very conceit of the show, so here we have the decision by Couslon to surround himself with pretty oung things openly questioned by a character. It's like they are Wile E Coyote, running over a ravine, only to pause , look down and realise that what they are doing is impossible. Stop breaking the story! We will all fall to our deaths if you have characters point out what's wrong with the very concept!
4. Boom Stick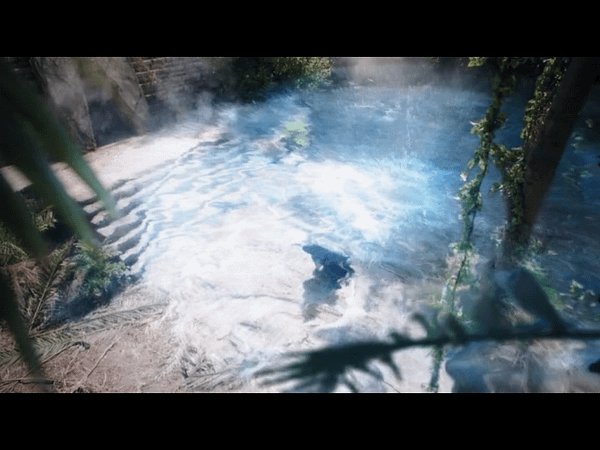 Okay, lots of Marvelese to check this week from Chitauri, to gamma radiation, to Tony Stark and Thor's hammer so… is that… repulsor technology? Stark is, after all, a consultant.
5. Phil The Geek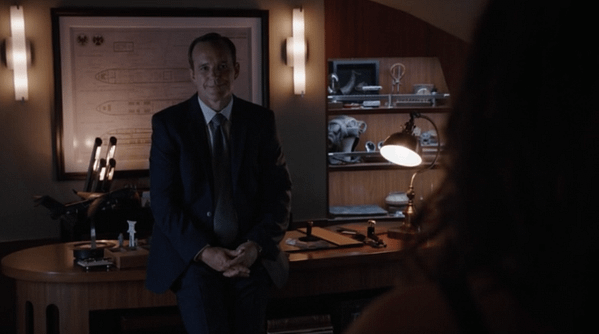 He collects old things, memorabilia, nostalgia from the past, a history in espionage, and what went before him. So basically Coulson is a geek. And instantly endears himself to the audience inbetween looking at the very beautiful young people.
Let's go look at them some more.
6. You Do Remember You've Got A Flying Car, Right?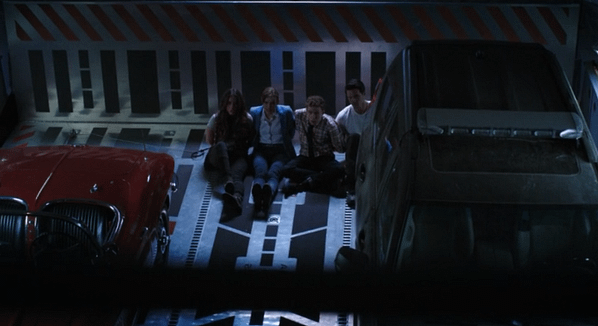 You are imprisoned in a hangar, with doors you cannot open unless you blow open the side of the plane. Or, you know, you could all just pop in Lola and fly her out.
She's right there, folks. Right there. Seriously.
8. That's Quite A Strong Raft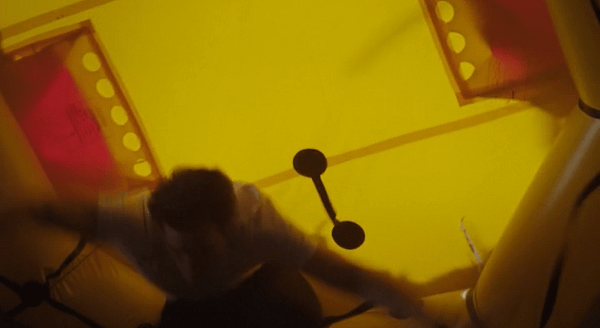 But, to be fair, quite a lot of the air in the plane had left it at this point. Still, they make inflatable dinghies rather strong at SHIELD. unstable molecules, got to be.
8. The Brits Bring The Beers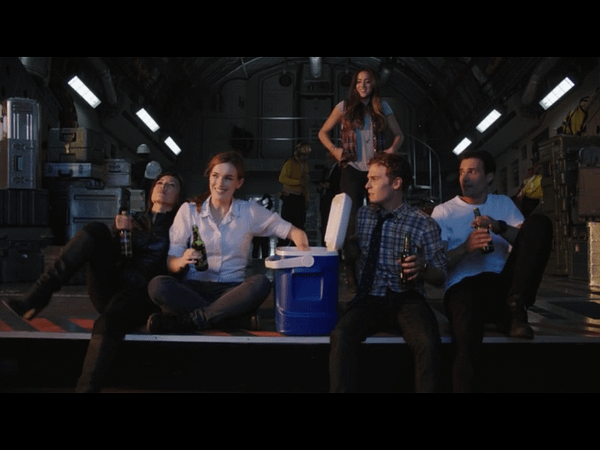 "Guys. English." They are. Well one is, the other's Scottish, but close enough barring a referendum. And yes, they bring the beers, but do they really have to be in bottles? Anyway, expect scenes like this to be occurring all over New York Comic Con next week. Well, in the Lansdowne, anyway.
9. I Am A Mole And I Live In A Bus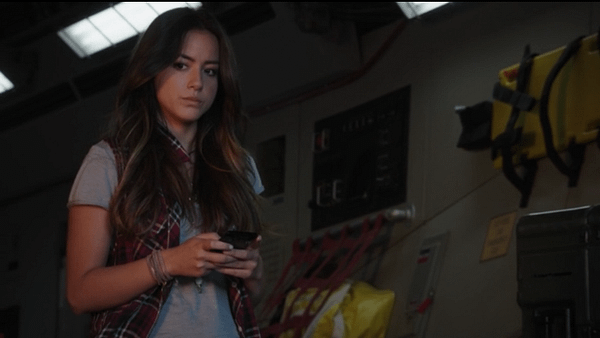 Okay, so hacker girl is a mole for The Rising Tide. At what point are we going to discover that not only does Agent Coulson know she's a mole, but he's depending on it and, in fact, The Rising Tide were actually set up in the first place by S.H.I.E.L.D. anyway? First season or second?
10. You Only Like Me When I'm Angry

Nick Fury must always be angry. Always. Otherwise, what's the point?
Enjoyed this article? Share it!