'IT: Chapter Two': Bill Skarsgård Discusses Becoming a More Vicious Pennywise For the Sequel
The trailer for IT: Chapter 2 will drop later this morning, and in advance of us seeing Pennywise return, actor Bill Skarsgård discussed getting back into the headspace of The Dancing Clown yet again. Discussing the character with EW, he had this to say about where the evil entity's head is at: "He's been doing this forever really, so he doesn't change in the sense that you would look differently. He looks however he wants to look for any particular prey at the time, but I do think there's a change, The arc of the first movie is that he, for the first time, experiences fear himself," Skarsgård explains. "His last line — 'Fear…' — is him experiencing it for the first time, and he's sort of shocked and perplexed and surprised. Like, what is this?"
He also had this to say about his mission in this sequel compared to the first half of the story:
"He's inflicted fear on his prey, and he's very focused on fear, but he's never experienced it himself," Skarsgård says. "Now he's experienced something that he has been inflicting on others and … there's a shift leading into the second movie. It fuels hatred and anger towards the kids, who will be adults in this one, so I think there might be an even more vicious Pennywise," Skarsgård teases. "He's really going after it.

There's a lot to explore, you can change him or make him whackier, but he's not really bound to continuity in the sense that a normal character would be. We can explore his unpredictability now that we've established the character for the audience. We can still sort of shock them."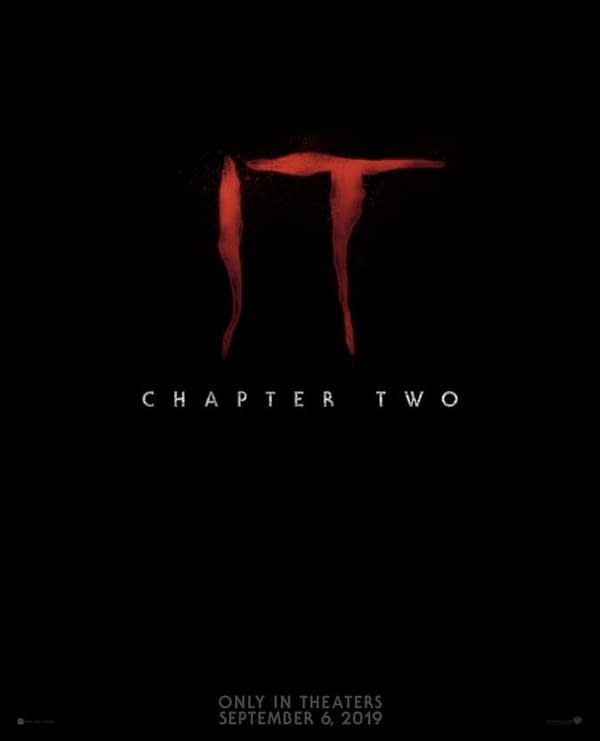 IT: Chapter 2 will star James McAvoy as Bill, Jessica Chastain as Beverly, Bill Hader as Richie, Isaiah Mustafa as Mike, Jay Ryan as Ben, James Ransone as Eddie, and Andy Bean as Stanley, all as the adult versions of The Loser's Club. The kid's will also return- Jaeden Lieberher as Bill, Sophia Lillis as Beverly, Finn Wolfhard as Richie, Chosen Jacobs as Mike, Jeremy Ray Taylor as Ben, Jack Dylan Grazer as Eddie, and Wyatt Oleff as Stanley. Bill Skarsgård will reprise his role as Pennywise. The film is again directed by Andy Muschietti.
The film opens September 6. Watch later today for the film's debut trailer.