James Gunn Confirms A 'Guardians Of The Galaxy' Easter Egg To Adam Warlock
The Marvel universe has built an entire mega franchise around Easter Eggs and after-credits scenes. As the Marvel universe has continued to grow directors and writers have started putting more and more details into the background of their movies which makes fans go through the movies frame by frame to see who might be hiding in this ever expanding universe. One of the places where fans have been debating whether or not something was an Easter Egg goes back to the first Guardians of the Galaxy movie.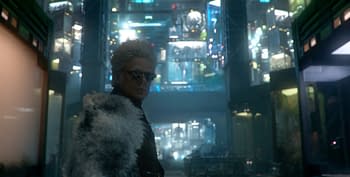 In the first Guardians movie the heroes try to sell an infinity stone to the Collector (Benicio Del Toro). That is already a pretty big Easter Egg but the fun part turned out to be the Collector's room of goodies. We saw all sorts of fun things in the background of that movie including Cosmo, Howard the Duck, A Dark Elf, and more. One of the things that fans noticed in the background looked like a cocoon and there is a cosmic Marvel character that came to be from a caccoon and that's Adam Warlock.
Adam Warlock is a well-ish known Marvel cosmic character who is linked to the Infinity Gautlet and Thanos.
He was developed by "the Enclave" to be an all-powerful human. Human perfection. But he had no ordinary human experiences, which made him uncontrollable. His Infinity Gem was the 'soul gem', which he got later from the High Evolutionary. It was sentient and eventually started to act of its own accord and steal souls. However, director James Gunn didn't out right deny the claims he never confirmed them either. However, one of the after-credit sequences from Guardians of the Galaxy Vol 2 shows Ayesha (Elizabeth Debicki) in front of a new "birthing pod". She says she's making the next form of the Sovereign's evolution and that she will call him "Adam". Now Adam Warlock has been confirmed but when that same cocoon turned up in the Guardians of the Galaxy ride in Disneyland a fan asked Gunn if it meant anything.
So basically we're looking at the beta version of the cocoon used by the Sovereign to give birth to their people. We don't know if the cocoon is going to play a significant role but it nice to see that it wasn't some pointless background detail. The cocoon is important to bringing Adam Warlock to the Marvel Cinematic Universe, which Gunn has confirmed won't take place until Guardians of the Galaxy Vol. 3 in phase four, just not as important as we all initially thought.