Josh Boone Explains Why The New Mutants Doesn't Just Go To Streaming
When it comes to movies that have had a rough time making it to the big screen The New Mutants might be one of the more high profile examples. A movie that had its first release date in April 2018 it, unfortunately, got caught up in the Disney-Fox acquisition and sat unfinished for almost two full years. Most fans didn't know that the movie wasn't finished though and we didn't find out until earlier this year when director Josh Boone came out and said that that he was called in to finish the movie in late 2019/early 2020 to do the last 25% of the post-production work. So the many calls fans have been making before now for The New Mutants to get a Disney+, HBO Max, or Hulu release couldn't have had happened because the movie wasn't complete yet. Now, however, things are different and we know the movie is finished. COVID-19 set back a lot of productions but this one was like kicking someone when they are already down. Collider recently asked Boone to clarify why they don't just release the movie on digital considering the ongoing pandemic and all of the delays.
"With most movies, you sign contracts that guarantee a theatrical release, so it needs to open to ever go digital in the first place. We just, too, would like to see people to see it in the theater. But it needs to obviously be at the right time when it's safe to go back."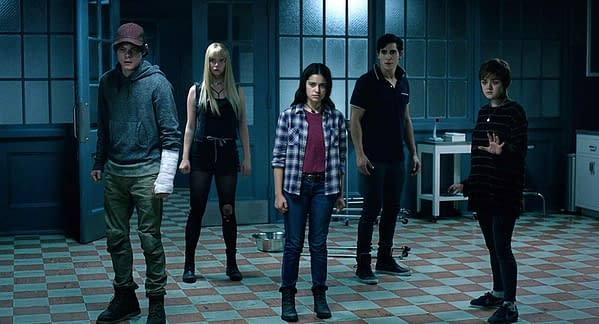 People have thought there was a contract issue that could be keeping Disney from releasing the movie on digital and Boone seems to be confirming that. It's kind of a shame since this is a movie that probably would do well on VOD and streaming but they have to keep pushing for that theatrical release despite it being the worst possible time to do something like that. Maybe there will be a short theatrical to digital release window like Disney did earlier this year with Onward. At this point, that might be the only way they get people to see this movie.
Summary: Five young mutants, just discovering their abilities while held in a secret facility against their will, fight to escape their past sins and save themselves.
The New Mutants, directed by Josh Boone, stars Anya Taylor-Joy, Alice Braga, Maisie Williams, Charlie Heaton, Blu Hunt, and Henry Zaga. It has a release date of August 28th, at least for now.