Jurassic World: Dominion – Sam Neill Eager to Return After Quarantine
While Jurassic World III star Sam Neill remains grateful as his status as a working actor, he never embraced the "celebrity" label attached performing on screen. With an impressive filmography spanning five decades, the character actor became in high demand particularly in the 1990s including notable roles in The Hunt for Red October (1990), The Piano (1993), Event Horizon (1997), and his arguably his most famous as Dr. Alan Grant in Jurassic Park (1993). The New Zealander spoke with The Guardian about the moment he realized that all changed "I have never regarded myself as a celebrity, and I don't feel I have ever been massively famous over here, on my side of the world. The only thing that really blindsided me was the huge Comic-Con gathering of fans for Jurassic Park. People went ballistic. There is a big concentration of a certain type of people, very nice people, but one type."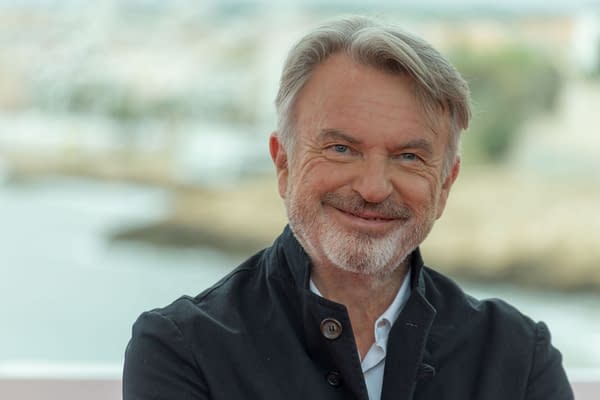 Neill admitted not minding the fanfare. After all, he reprised his role as Grant in 2001 for Jurassic Park III. He still prefers not to change the way he always lives. "I take great care to avoid anything to do with [celebrity culture] and then no one troubles me if I go out to get a sandwich or something," he said. Since the announcement of the sixth film in the franchise in Jurassic World III, Neill expressed his eagerness to return to England to start filming. "I should be going into Pinewood at 6 am," he said. "All the sets are there, waiting. I miss the company of friends and the conviviality around a table in a restaurant, sharing some good wine together. I can't wait to get back to it. One hopes that people haven't got used to being without it." Neill used the time in quarantine to distance himself from social media and used the opportunity to take on a new activity. "Rather than seeing this as an imprisonment, it's good if people can view it as an opportunity to reconnect and take up something new," he said. "Or play the ukulele. I know other actors, like Patrick Stewart, have been reading Shakespeare, but if I feel like singing badly, I will." Neill can also be seen in Flack on Pop TV and the upcoming Australian film Rams.
Jurassic World: Dominion sees Neill reuniting with his Park co-stars Laura Dern and Jeff Goldblum. The latter also appeared in The Lost World: Jurassic Park (1997) and Jurassic World: Fallen Kingdom (2018). Directed by Colin Trevorrow, Dominion also stars Chris Pratt, Bryce Dallas Howard, Jake Johnson, Dichan Lachman, Daniella Pineda, Justice Smith, Omar Sy, and BD Wong. The Universal film is tentatively slated for a June 11th, 2021 release.