Kevin Smith and Jason Mewes In Baltimore This Saturday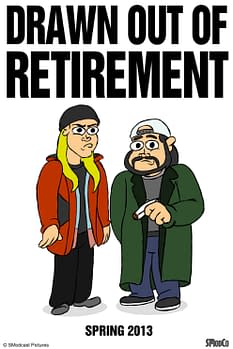 The Baltimore Comic Con is having an Afternoon with Jay & Silent Bob this Saturday, September 7th that will include appearances by Kevin Smith and Jason Mewes, plus the crew from AMC's Comic Book Men: Walt Flanagan, Bryan Johnson, Mike Zapcic and Ming Chen as well as a showing of The Jay & Silent Bob's Super Groovy Cartoon Movie.
The afternoon opens at 1:30 pm with a newly added panel hosted by Mewes with Flanagan and Johnson (who co-host the award winning podcast Tell'em SteveDave!) along with Zapcic and Chen (co-hosts of I Sell Comics!). This panel is open to all Baltimore Comic-Con ticket holders.
Following the panel will be a screening of The Jay & Silent Bob's Super Groovy Cartoon Movie and a Q&A with Smith and Mewes. This is a limited-engagement event and requires additional tickets, which are still available for purchase by clicking here.
For those of you not familiar with the movie, here is the trailer… but this is Jay & Silent Bob so you know there will be cursing and mature themes even in the trailer. So don't watch it at work.
[youtube]http://youtu.be/la017NRDjyM[/youtube]
And to close out the day, the two podcasts, Tell'em SteveDave! and I Sell Comics!, will join together to broadcast live from the convention center and taking questions from attendees.
It will be quite the day for fans of the View Askewniverse and Comic Book Men. If you don't have your tickets yet, http://baltimorecomiccon.com/tickets/ This year's Baltimore Comic-Con will be held September 7-8, 2013. Convention hours are Saturday 10 AM to 7 PM and Sunday 10 AM to 5 PM.