You may know Kulap Vilasyack from her show Bajillion Dollar Propertie$, or perhaps from the podcast Who Charted? You may even know her as Katharsis from DC Comics' Prime Earth (Okay that's not actually her, but it's as close as it gets, as Gail Simone and Alitha Martinez based the character on her). However, in her new documentary Origin Story you'll get to know Kulap and what shapes her.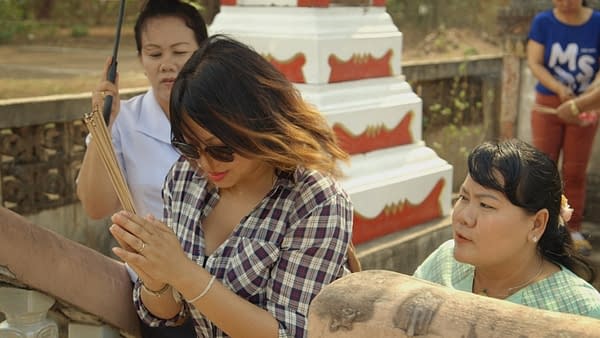 The film follows Kulap as she sets out on a journey to meet her biological father. At 14 she discovered in a stunning way that the man who had been raising her, and who she thought was her father, was not.
It's a raw and emotional film; independent of race, anyone with family struggles (and isn't that all of us?) can relate to the emotional roller coaster Vilaysack has to grapple with.
Don't get me wrong though — the film isn't a downer. The same sense of humor that has caused Kulap's success in the comedy world is very apparent in Origin Story. Whether she's hanging out with husband Scott Aukerman or chatting with pals Sarah Silverman, Casey Wilson, June Diane Raphael, (who also produced the film) or Howard Kremer, Kulap weaves emotion and laughs seamlessly.
I saw the film at CAAMFest in San Francisco and had the chance to chat with Kulap afterwards. One of the unique things about Origin Story is that it highlights a group of Asians that would probably be considered a minority within the larger umbrella. We rarely get to see stories featuring Asians and Asian Americans on screen, let alone Laotians. We discussed representation and diversity (or the lack thereof) of stories of this kind, the logistical struggles of making the film, and practical advice for minorities trying to succeed in media fields.
I highly recommend checking the film out and exploring Kulap's other work. Visit originstorydoc.com.
May is Asian Pacific American Heritage Month.
Enjoyed this article? Share it!