Some other interesting items that we were keeping an eye on during Profiles in History's Icons & Legends of Hollywood auction this time around included some pretty fabulous swords.
Specifically, a pair from Highlander. Sean Connery's Juan Sánchez Villa-Lobos Ramírez katana and Clancy Brown's Kurgan blade.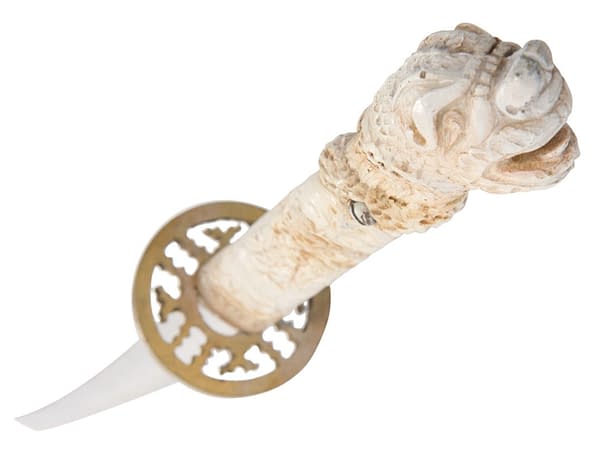 The Ramirez sword went for $15,360 (USD).
1101. Sean Connery "Ramirez" katana from Highlander. (Thorn EMI, 1986) Vintage original prop katana. Constructed of tooled aluminum blade and hand guard and cast resin grip studio finished to appear as carved bone with Chinese imagery of dragons and humans. Exhibiting nicks and wear to the blade. With a contemporary screw through the upper part of the grip, presumably to secure the blade into the handle. In very good condition. $6,000 – $8,000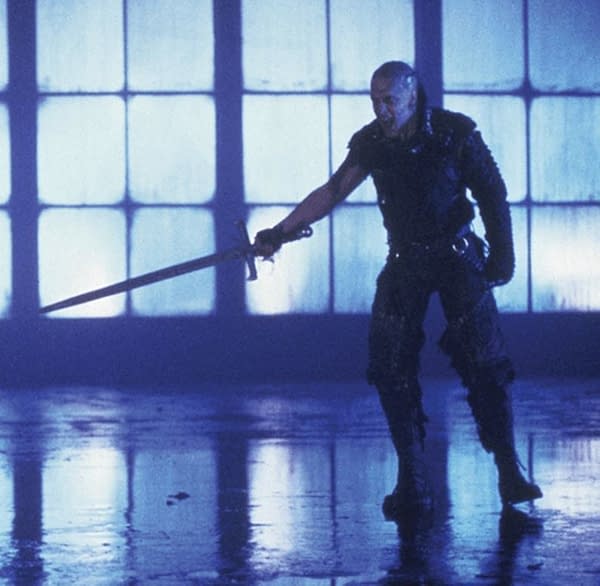 The Kurgan blade went for $10,880 (USD).
1103. Clancy Brown "Kurgan" FX sword from Highlander. (Thorn EMI, 1986) Vintage original 51.5 in. long special FX retractable sword. The tooled aluminum lower blade fits into the upper aluminum sleeve and has an internal spring that allows the retractable blade to reemerge. Sword features a spiked aluminum hand guard and grip covered in black faux leather and cord. With an aluminum ball pommel at the end of the grip. The retractable blade is bent at the upper end. In vintage very good condition. $8,000 – $12,000
Enjoyed this article? Share it!