Dimitrios Haritos writes for Bleeding Cool: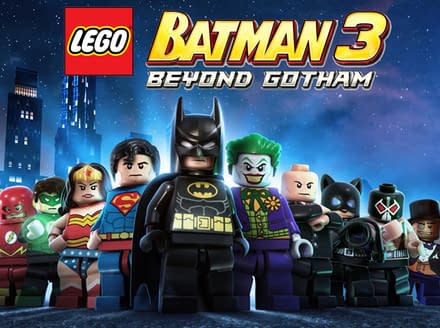 I was fortunate enough to have a few minutes to check out the new Lego Batman 3: Beyond Gotham, and I have to say it was a great experience. Having played the first two games I was curious what the third would have different. The Telltale rep Arthur told me there are 15 in-story game levels as well as 8 worlds you can check out that are in line with the color spectrum of lanterns.
My Favorite was getting to play around in the 1966 Batman free play level, which is cheeky, fun and campy. (What else would you expect from a Lego game that got to play in the 1966 Batman world.) Playing as Adam West Batman was so fun, even though he had all the same moves as regular Batman the way he did it honored the tone of the series. Something as simple as Batman turning invisible with the West Batman he simply picks up his cape and sneaks around.
With over 150 characters that are playable, the designers had the freedom to pick which versions they wanted to do. Telltale Rep Arthur was really happy he could use pre 52 Lobo. When I asked if they would have my favorite character Animal Man he was a little dodgy and said he couldn't say if he would be in the game. A personal favorite of mine was seeing obscure characters like Polka Dot Man or even weirder Bat Cow.
Lego Batman 3: Beyond Gotham will be available November 11, 2014 and I know I will be in line on opening day to play this with my 2 boys.
Dimitrios Haritos is a contributor for Bleeding Cool as well as a Cosplayer who loves all things
Enjoyed this article? Share it!