Posted in: Harry Potter, Movies, Warner Bros | Tagged: dumbledore, fantastic beasts, Fantastic Beasts: The Crimes of Grindelwald, grindelwald, harry potter, The Mirror of Erised
---
Let's Talk About Dumbledore Seeing Grindelwald in The Mirror of Erised
San Diego Comic-Con has come and gone, trailers have been shown, and conclusions drawn from mere minutes of footage. Chief among them, at least for Potterheads following the Warner Bros. presentation in Hall H which included a new trailer for Fantastic Beasts: The Crimes of Grindelwald, was a split second moment featuring young Dumbledore seeing a particular person in the Mirror of Erised.
If you didn't see the trailer, it's pretty incredible:
There is so much in there to take apart and talk about — the use of the diluminator, Dumbledore teaching students how to best a boggart, and of course that AWESOME cameo at the end. If you fast forward to 1:35 though, you see Jude Law as Dumbledore standing at the Mirror of Erised, where he happens to see Johnny Depp as Grindelwald reflected.
If you'll recall, the Mirror has a special magical purpose: to show the heart's greatest desire. We've witnessed what it showed Harry Potter — his parents, alive and well. Ron told Harry he saw himself being head boy and holding the Quidditch Cup.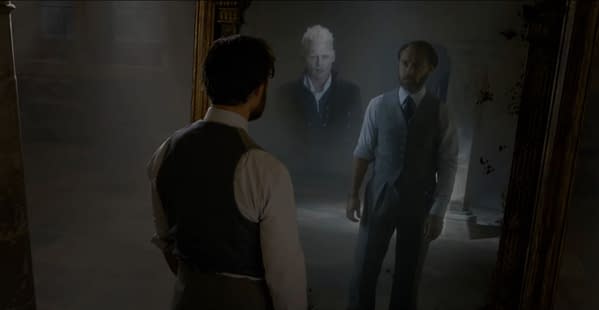 Looking at this moment as presented in the trailer, it would appear that what Dumbledore desires most is Grindelwald. It could be by his side, it could be captured and reined in, or it could be the romantic relationship between the two.
It'll be interesting to see where they go with this; maybe this moment won't actually have any relevance in the film, but what if it does?!
Fantastic Beasts: The Crimes of Grindelwald is set to hit theaters on November 16th, 2018.
---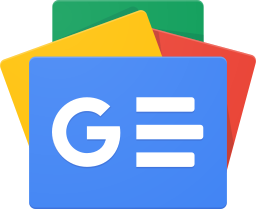 Stay up-to-date and support the site by following Bleeding Cool on Google News today!