If you were that age bracket born in the mid-late '80s, chances are Everything Sucks on Netflix is the retro high school show for you. Much like how Stranger Things appeals to '80s kids for all the callbacks to period things (toys, fashions, set dressing), Everything Sucks does it for the mid-'90s crowd, in a mostly dramedy format. You could also compare it to Freaks & Geeks (but it was targeted towards the slightly order and more experienced crowd, don't @ me) whereas Everything Sucks is decidedly more innocent in its approach.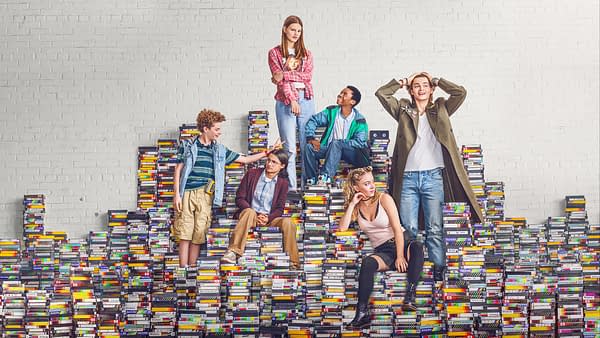 The series is a scant 30 minutes per episode, and follows the lives of students at Boring High School in Boring, Oregon. While you do get the typical high school cliques featured in the 10-episode single (so far) season, it's novel to have the action revolve around the Drama and AV clubs rather than a sportsball team.
I can't think of a series that better illustrates what it was to grow up in this time, when grunge was just ending and Tori Amos and Fiona Apple where the heartbroken angry girl anthems for a hot minute. (I was never really into them, I stuck with my Garbage and my '80s punk, but I had PLENTY of friends who were.) The soundtrack alone from the first season is like a time capsule of what was playing on the local radio stations. I still remember most of the words of every song featured.
Perhaps the most honest part of the series is the sheer anxiety of the main characters Luke (Jahi Di'Allo Winston) and Kate (Peyton Kennedy) as they deal with a myriad of things from coming to terms with personal sexuality to walking in on your parent WITH someone. I don't want to give anything away, because some of these moments are painfully awkward and relatable to anyone who lived at this age during this time. Seriously.
What's interesting is Everything Sucks is being called a "sleeper hit" by Netflix execs, a show that came out of nowhere and is on the lower end of the production cost spectrum. Okay, well, that last bit is per the series creators and writers Michael Mohan and Ben York Jones; Netflix has neither confirmed nor denied that factoid. Hopefully this means a season 2 is on the horizon, as binging the series happens quickly and then you're left with the all-important question, BUT WHAT HAPPENS NEXT?!
Cannot recommend the series enough — watch it.
Enjoyed this article? Share it!