No, that The X-Files season 11, episode 7 title 'Rm9sbG93ZXjz' probably isn't captcha, even though it really looks like it. It's been two weeks since our last episode of the FOX series, as the Olympics weren't something the network (among others) didn't want to compete with.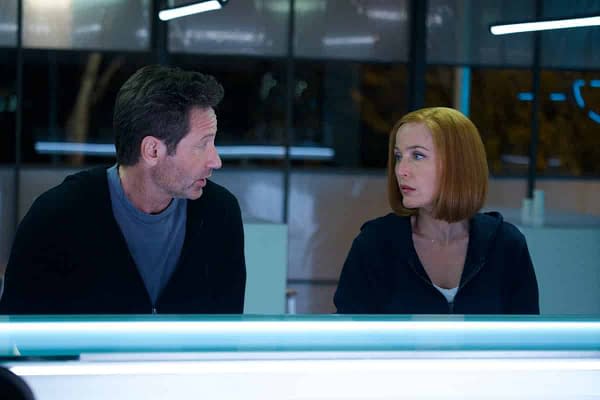 This week promises to be something akin to Black Mirror, even though the comparison via several other review sites is silly because The X-Files came before Black Mirror, and and continued the Twilight Zone-esque episodic genre.
'RM9sbG93ZXjz' is unique in this season due in large part to the list of writers — Chris Carter (series creator, duh), and two women in a otherwise boys club of a show — Kristen Cloke (Intruders) and Shannon Hamblin. Perhaps you'll recall the notable true-to-show limited female writers on staff for this season.
What's really interesting is that Hamblin has no previous writing credits, but has been Glen Morgan's (who directed this episode) assistant on Amazon Studios' Lore series.
Anyhow, here's the teaser released by FOX ahead of the episode:
🚨 PREPARE TO BE ALARMED. 🚨 #TheXFiles is back with an all-new episode at 8/7c. pic.twitter.com/hvniQdaS0L

— The X-Files (@thexfiles) February 28, 2018
Check back during the West Coast airing of the episode, 8 p.m. (PST) for our live running commentary.
Things that happened in "RM9sbG93ZXjz":
The episode opens with a voice over and what appears to be a social media homepage, much like an instagram type of thing
The 'JetBot' is introduced, as an AI created to mimic a 19 year old girl, who was constructed to learn from humans.
"The Robot did indeed learn, but not in the way her creators had intended.
"Humans must take care in teaching AI, or one day we'll be the ones deleted."
Scully's got a new wig, take a drink
Mulder and Scully sit in what looks like some kind of high tech cafe
Scully pulls up her phone, and it's an article about Elon Musk and AI.
You get the impression that talking isn't allowed
Mulder's ordered meal of a sad blobfish arrives, and Scully starts laughing
Gillian Anderson has some of the best giggles
https://twitter.com/GillianA/status/968926117276078085
They named the blobfish William?
Mulder is unhappy with his meal, and goes to the 'kitchen' area to take it up with the staff, and finds only robots.
He pays for their meals, and choses to not leave a tip, which causes the machine to keep his card. He starts to hit the panel with his card, and a screen flashes "please don't hit the machines"
Mulder being Mulder he keeps striking it and the lights go out and the door locks, trapping the agents inside.
They manage to get out, and a driverless electric car arrives to pick up Scully. The first word uttered so far in this episode is her saying "Mulder."
1213 37th Place is her address now, and her Driverless Whip asks her a bunch of questions to which her responses appear to anger her AI.
Mulder gets a parking ticket, and starts to argue with his own tech heavy car, which instead of taking him home, brings him to his "final destination", back to the robocafe
The red 'eye' lights of the bots inside all come on, and appear to be 'looking' at Mulder through the window.
He attempts to use a paper map to get himself home
This episode feels decidedly anti-Tesla.
Omg Dana's password is Queqeeg, a nice callback to a classic bit of X-Files lore
And she uses a brand called "rock it like a redhead"
Yes, I noticed Mulder's credit company is called "Bigly Credit", nice tough there
Fox vs a drone, baseball bat for the win
Also the fact that a black unmarked drone comes to retrieve the broken one is another great nod to the series- black unmarked helicopters always being a thing
A roomba is delivered to Scully's house, and it finds something fun under her bed- a hot pink rechargeable personal massager- not a cheap one either.
Scully's smart house is rebelling, and Mulder is getting invaded by microdrones
This is like a freaking nightmare…for anyone who works with social media that needs user interactions and ratings to make quotas, and for anyone who is anti-drones and uber tech
Funny how Scully's house alarm sounds just like the Lost hatch computer alarm
The house tries to kill Scully with a gas leak and explosion, but she manages to break the glass door (kind of a bad choice for her given the history of visitors)
After chasing the pair to a factory, a robot arm hands Mulder his phone back with the prompt that it's his last chance to tip the robot cafe staff, and he of course does as the timer counts down to 1.
"We learn from you," the prompt on his phone reads.
"We have to be better teachers," Mulder responds.
The pair have breakfast in a diner without robots, and begin to again fall into the habit of looking at their phones, but Scully breaks the cycle and puts her hand over his.
The episode ends with the two, holding hands, her chair gently bumping his.
You know, a pretty great episode. Definitely if you're a MulderxScully fan, as I am and will always be.
Join us next week for The X-Files season 11 episode 8.
Enjoyed this article? Share it!