Lord & Miller REALLY Wanted to Make a Miles Morales Spider-Verse Movie
It turns out that producers Phil Lord and Chris Miller had one stipulation for Sony regarding Spider-Man: Into the Spider-Verse; they agreed to do the project ONLY if it was the story of Miles Morales.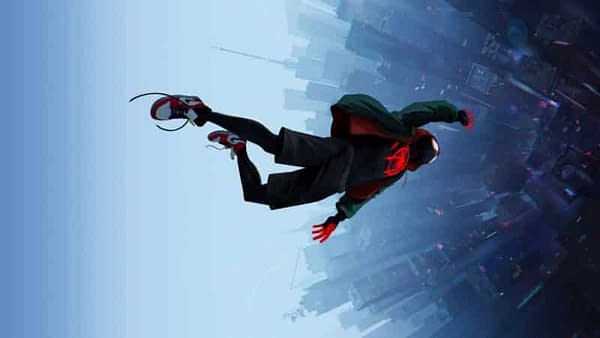 Sony is ALREADY planning a sequel for their animated Spider-Man: Into the Spider-Verse film which opens next month, so obviously they're pretty happy with the resulting film. They're also planning an all-female spinoff film, which will theoretically star the female Spider-Verse characters introduced in Into the Spider-Verse.
In an interview with Fandango, Miller revealed how the pitch meeting with Sony Exec Amy Pascal went, and revealed their one stipulation:
Chris Miller: Amy Pascal and Avi Arad came to us with the idea of doing Spider-Man as an animated movie. And of course, the first thing you think is, well, doing an animated movie with the source material of a comic book, you can really, really get into the artistry in a way that no live action version of a comic book movie ever did, and that was really exciting. But then we also were really excited to tell the story of Miles Morales. So, first we said, "Uh." And then we said, "We'll do it, but only if it's the Miles Morales story." And luckily, they were super on board.
Fandango (Erik Davis) then continued, pointing out the ongoing fan-desire to see Miles in a film:
Fandango: Fans have been itching to see Miles Morales in a Spider-Man movie for a while. When it comes to that character, what was the most important thing for you in terms of bringing him to life? What was the most important thing to get right?

Phil Lord: Well, to me, it sort of all circles around to his family. He has a very different family than Peter Parker did. First of all, both of his parents are alive, so that's a huge difference right there. And being able to portray a very grounded family with a mother and father who both want the best for their son, but go about it in different ways. Also an uncle that loves him, but is encouraging him to go down a different path. That whole dynamic is really the center of what the whole movie's about, and it was really important to us to get right. And it really speaks to Miles trying to figure out who he is and who he's gonna be, what kind of a person he's going to become.
Spider-Man: Into The Spider-Verse hits theaters on December 14th 2018.