Rumor: Marvel Studios to Announce Eternals Movie Soon
It's not like it hasn't been rumoured elsewhere — that Marvel was to develop an Eternals movie based on the characters created by Jack Kirby for Marvel Comics.
With a New Gods movie in the works at DC Comics, Black Panther continuing to put on gross revenue, Thor: Ragnarok looking more Kirby-esque than anything before it, and Avengers: Infinity War about to smash, this is very much a time for the legacy of comic book creator Jack Kirby. I mean, even more so than usual.
Bleeding Cool has been informed by a very reliable source that we are to expect an announcement imminently. Marvel Studios has been meeting with writers about the property — and you know what writers are like about this sort of thing. And so does Marvel.
Now, this is still a rumour, make sure of that. But the source has proved ultra-reliable in the past for this kind of thing.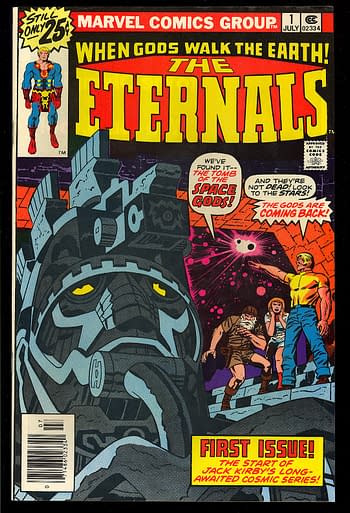 Jack Kirby's New Gods was a series, planned with a beginning, middle and end, was left unfinished at DC Comics as the titles involved were all cancelled. Kirby returned to work at Marvel on better terms and bringing some of his ideas with him.
And so in 1976, The Eternals was born, a fictional race of humanity and an offshoot of the evolutionary process that created sentient life on Earth. The original instigators of this process, the Celestials, intended the Eternals to be the defenders of Earth, fighting against the Deviants, and giving Marvel's Universe and the Marvel Earth a long-standing cosmic history. Again, the series was cancelled with unresolved plots, though Roy Thomas and Mark Gruenwald would do their best to resolve them. Since, the Celestials, god-like creatures who interfered with the Earth's development and laying the groundwork for Inhumans, mutants and more to emerge, have become a staple part of Marvel Comics continuity.
Now it looks as if the films are going to have a go as well.
So if you have been hemming and hawing over buying those Eternals back issues on eBay, now would be the time. Look at the unsold copy of Eternals #1 going for under $4. This copy of the 1985 revival #1 is only a buck. Let's time it after this article gets posted, to see how quickly they sell at that price.