Mia Goth Puts Academy In Place For Ignoring Horror Genre
Mia Goth spoke out about the lack of horror nominations at the Academy Awards yet again this year: "A change is necessary"
---
Mia Goth starred in two of the most acclaimed horror films in some time last year, Ti West films X and Pearl. Both were also successes at the box office, garnered tons of attention from critics groups, and made many year-end lists. Yet, when Tuesday's Academy Award nomination was revealed, nobody really thought that we would see her name in any of the acting categories. Other horror ignored this year included Jordan Peele's film Nope, Barbarian, Bones and All, and many other films that didn't even get a seat at the table for awards season yet again because while horror makes them all money, it is still somehow looked down upon. Mia Goth thinks that this needs to change.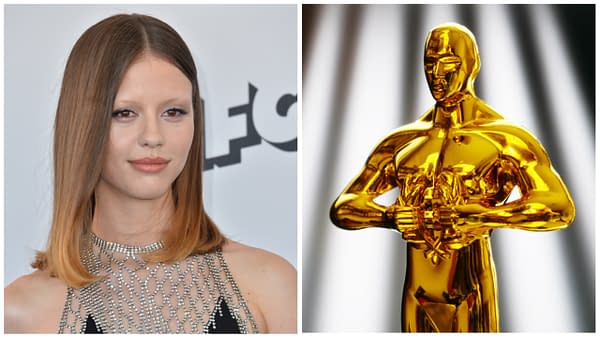 Mia Goth Has Another Dynamite Horror Film Out Now
"I think that it's very political," Mia Goth told Jake Hamilton of "Jake's Takes." "It's not entirely based on the quality of a project per se. There's a lot going on there and a lot of cooks in the kitchen when it comes to nominations," Goth said. "Maybe I shouldn't say that, but I think that's true. I think a lot of people know that. A change is necessary," Goth, 29, added. "A shift should take place if they wanted to engage with the wider public. I think it would be of benefit, really, [to nominate horror movies]."
This is what it is going to take. These stars and directors need to make their voices heard so that whatever small-minded stigma surrounding horror can finally go away and these artists can be recognized for their achievements. That we are still talking about this is completely ridiculous. The list of performances that have been snubbed over the years because the horror label was attached to it is too long to list here. Some of the most challenging and story-rich ideas have been explored in horror for the last decade, and that the voting body has largely ignored it is ignorant. Be like Mia Goth, and tell them to fix it.