We're still a ways off from the 2018 Emmys, but there was a big piece of news that maybe you missed (we're embarrassed to admit we TOTALLY did). The nominations don't happen until July 12th, but we know who's hosting the 70th Annual Primetime Emmy Awards come September.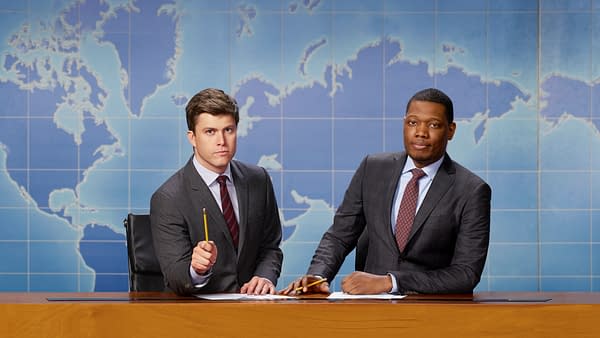 Saturday Night Live head writers and Weekend Update anchors Colin Jost and Michael Che will be sharing the hosting duties, and SNL boss Lorne Michaels will be executive producing.
This is the first time since 1988 that Michaels has been EP on the awards, aside from SNL he's also got The Tonight Show Starring Jimmy Fallon, Late Night With Seth Meyers, and A.P. Bio under his belt.
"NBC is thrilled to be the home of this year's Emmy Awards and with Colin and Michael in the driver's seat as hosts, along with surprise appearances by other cast members of Saturday Night Live, I think we are in for one of the funniest awards shows in a long time,"Chairman NBC Entertainment Robert Greenblatt said.
NBC President, Alternative and Reality Group, Paul Telegdy said: "We're proud of our deep comedy roster at NBC, and Michael and Colin — along with the return of king of comedy producer Lorne Michaels — will make this the must-see comedy event of the year."
"We're proud to be the first duo hosting the Emmys since Jenna Elfman and David Hyde Pierce, and somehow that's a real fact," said Jost and Che.
Reportedly, a new eight-year 'wheel' agreement is almost complete, which keeps the big 4 networks (NBC, ABC, CBS, FOX) rotating as homes for the ceremony through 2026.
The 70th Annual Emmys will take place on Monday September 17th from 8 p.m. (ET) and 5 p.m. (PT) on NBC.
Enjoyed this article? Share it!